Dr. Christopher Mark Kaltenbach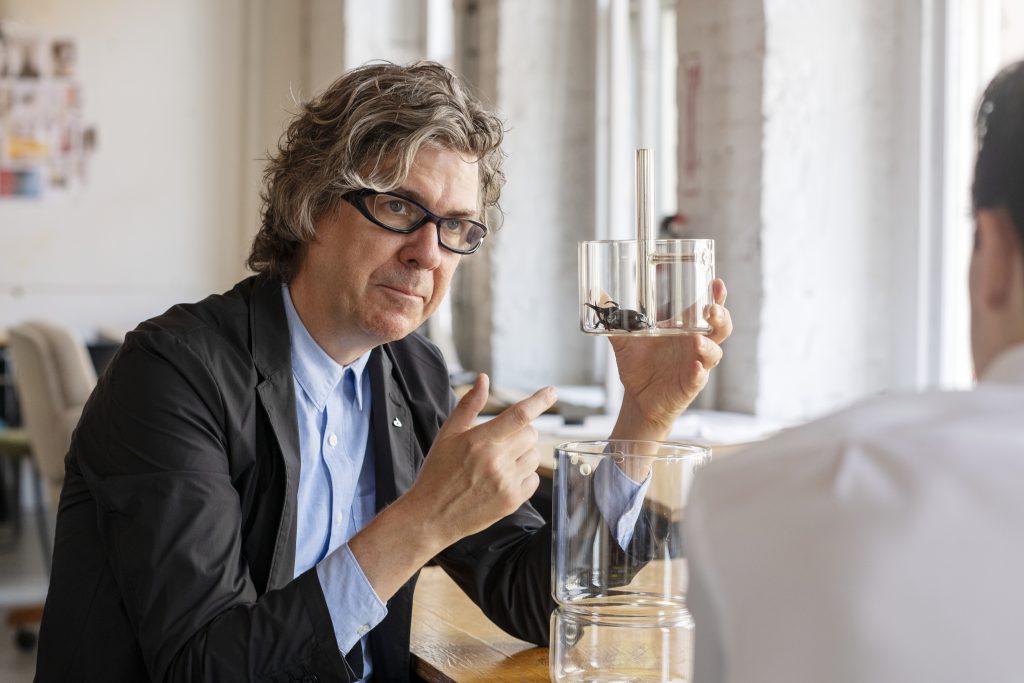 Dr. Christopher Mark Kaltenbach holds a Ph.D. from the School of Architecture and Urban Design at RMIT University in Melbourne, Australia, a Master of Design degree from the National Institute of Design, Swinburne University of Technology in Melbourne, Australia, and a Bachelor of Fine Arts degree from the College of Fine Arts, University of New Mexico in Albuquerque, New Mexico. He is a designer and writer who has worked in interdisciplinary roles in design and design education for over 20 years in Australia, Canada, Japan, Macau, and the United States.
As the founding director of the interdisciplinary design studio actionfindcopypaste, Dr. Kaltenbach's approaches projects at actionfindcopypaste through three key methods: conceptual approach, a concern with shared human experience, and a consistent desire to learn new processes. His clients have included Mitsubishi Jisho, the University of New Mexico Art Museum, and the Japanese beverage producer Kirin. In 2015, Dr. Kaltenbach was invited by Sony Tokyo to join a "Future of Living" working group discussion with members of other Japanese corporations. One of those discussions was with the beverage producer Kirin.  Dr. Kaltenbach participated in a discussion around slowing people down and encouraging them to engage with one and other around a vending machine in employee breakrooms.  Dr. Kaltenbach designed a version of Kirin's beverage cans to initiate a sharing experience known in Japan as "oshaku suru", the act of pouring a drink for another person. Additionally, Dr. Kaltenbach worked with the French outdoor luxury clothing company AIGLE to create a window installation at their flagship store in Halifax, Nova Scotia. Grounded in AIGLE's mission "to reconnect man with nature", Dr. Kaltenbach utilized the techniques of CNC (computer numerical controlled) manufacturing, human sized mannequins, vibrant lighting, and shallow pools of water to create a theatrical window display inspired by the Halifax Harbour and nature itself.
Dr. Kaltenbach's design practice has broadened to include speculative work addressing environmental advocacy. Dr. Kaltenbach has established a design practice that considers the role of design in commercial industry applications of insects, such as food production, pet breeding, and bioengineering. Central to Dr. Kaltenbach's current research is exploring how chemical by-product from insects, also known as the natural compound, can provide sustainable alternatives to fossil fuels and petrochemicals. Dr. Kaltenbach explains that he looks to scholarly articles in academic journals for speculation on how applied research can be commercialized in the future and where designers can position themselves in research and environmentalism. 
In his 2015 book, Insectum: Speculative Design Interventions, Dr. Kaltenbach featured the design projects of 17 NSCAD students that each offer insect solutions to help solve problems facing the planet. This project undoubtedly captures the essence of translating research into design with students tasked with selecting an insect, identifying the natural compound of the insect, creating a speculative product using that natural compound, identifying a target demographic for the product, and creating a design outcome for the product based on extensive research. Dr. Kaltenbach says the project demonstrates the genius of his students. He is currently working on Volume 2 of the book. 
The research of Dr. Kaltenbach not only positions design as contributing to a common good, but it is also redefining how we as a society interpret the value of insects and natural compounds. Dr. Kaltenbach aims to redefine how the world thinks about petrochemicals through the power of design. Dr. Kaltenbach recognizes that his research challenges previous conceptualizations of insects. Often humans have negative, uncontrolled experiences with insects such as an insect flying onto you unexpectedly. Dr. Kaltenbach has hosted two pop up shops, one in Tokyo and one in Halifax, to challenge proximity and perceptions of insects in a controlled environment. Attendees viewed insects through a viewing apparatus created by Dr. Kaltenbach to observe how an insect moves and the different parts of the insect from a close distance. The experience is meant to provide a space for humans to imagine and think about notions of consciousness from the insect's perspective. Dr. Kaltenbach says many participants described the experience as therapeutic and calming. Dr. Kaltenbach hopes to host a third pop up shop in the Middle East next year.