BFA, Textiles
and Fashion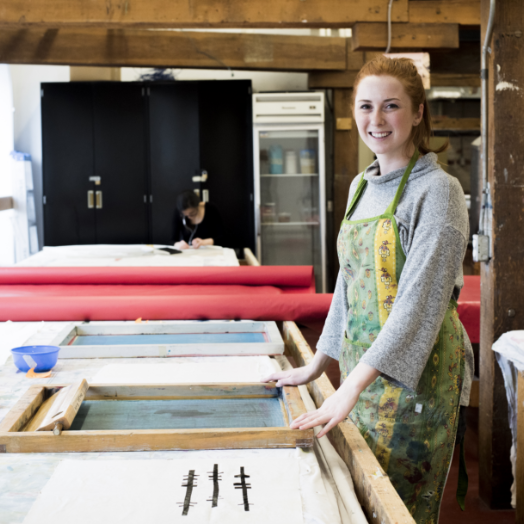 Division: Craft/Foundation
Degree: Bachelor of Fine Arts
Program: Major in Textiles/Fashion

Program Length: 4 years (see Degree Requirements)
The Major in Textiles/Fashion is an open entry program. After successfully completing the first two years of study, students may declare their intention to major in textiles/fashion.
Completion of Foundation Year 1. 30 credits of 1000-Level courses including:
FNDN 1010 Intro to Studio practice
(3-credits)
FNDN 1100 Foundation Drawing I
(3-credits)
FNDN 1200 Intro to Visual Culture
(3-credits)
FNDN 1800 Writing for the Arts
(3-credits)
Years 2-4. Courses Required:

AHIS 2020 Survey of 20th C Art
(3-credits)
AHIS 2120 Craft and Design Hist 1750-1950
(3-credits)
AHIS XXXX
(3-credits)
AHIS 3160 20th C Craft
(3-credits)
AHIS 3XXX / 4XXX
(3-credits)
TEXL 2000 and/or TEXL 2010 and/or TEXL 2100 and/or TEXL 2200 and/or TEXL 2500 and/or TEXL 2550
(12-credits)
TEXL 2150 or TEXL 2300 or TEXL 2450
(3-credits)
DSGN 2015 or TEXL 3010 or TEXL 3206 or TEXL 3350
(3-credits)
TEXL 3000 and/or TEXL 3100 and/or TEXL 3410
(12-credits)
TEXL 4006 and/or TEXL 4020 and/or TEXL 4506
(12-credits)
ARTS 3110 Entrepreneurship for Visual Arts or ARTS 4210 Professional Practice
(3-credits)
Elective/Open Credits

LASC credit
(6-credits)
Open credits
(24-credits)
Please visit the Academic Calendar for a description of all courses available during your undergraduate studies.
There are many minors to complement your textiles/fashion major, including art history, ceramics, drawing, film studies, illustration, jewellery design and metalsmithing, print/paper/book, textiles and journalism.
Faculty members are accomplished artists, scholars, educators and leaders in their craft. Rory MacDonald is the Craft Division Chair. For a list of full faculty, click the button below.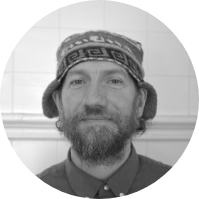 Rory MacDonald
Division Chair