IT'S GIVING TUESDAY, MAKE A GIFT AND CHANGE A LIFE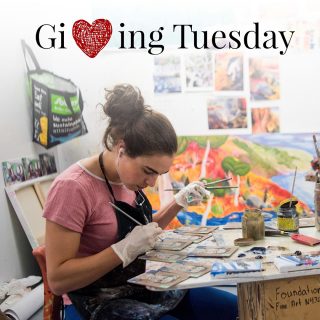 While NSCAD has evolved since its founding, our mission of nurturing talented young artists remains firm. Our students, alumni and faculty inspire creative leadership both here in Canada and around the world.
Now more than ever, at a time of rapid societal and political change, we need the powerful voices of artists, designers and craftspeople to expand and deepen what we know about the world.
Scholarships are key to vibrant and diverse students at NSCAD. For the 2017-2018 academic year, NSCAD awarded students more than 200 scholarship and bursaries totalling almost $380,000.
With your enduring support, NSCAD will continue to be the leading national treasure in visual arts education and be the champion for artists from around the world for generations to come.
Please consider making a difference to our students and invest in their future.

GivingTuesday is a global day of giving that happens each year after Black Friday and Cyber Monday.
It's a time when Canadians, charities and businesses come together to celebrate giving and participate in activities that support charities and non-profits.