Alumnus Todd Saunders is going to NSCAD's graduation ceremony again—this time as the university's guest of honor.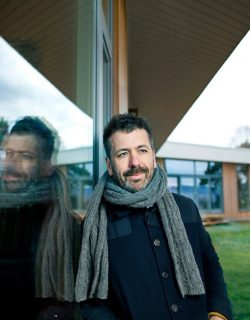 Saunders, who received a Bachelor of Design from NSCAD in 1992, returns to his alma mater to receive an honorary fine arts degree in recognition of his exemplary career as an architect. NSCAD's 2016 Graduation Ceremony takes place on Friday, April 29, 2 pm, at the Cunard Centre.
"I enjoyed my time at NSCAD. It's where I learned most of my skills and developed my approach to architecture, which is to be first and foremost responsive to the natural landscape," says the Newfoundland native. His firm, Saunders Architecture, is based in Norway and is perhaps best known on this side of the Atlantic for the distinctive, starkly modern architecture of the Fogo Island Inn and the Fogo Island Arts Colony. His inspiration was the outport architecture he grew up with, the houses and stages "which sit lightly on the landscape with a rough beauty."
The success of that project has brought his firm worldwide acclaim and dozens of awards; they've led to more prestigious commissions and established Fogo Island, a remote rocky outcrop, as a top destination. Prime Minister Justin Trudeau and his family recently visited for a few days over Easter.
The project is the subject of Strange & Familiar: Architecture on Fogo Island, by fellow NSCAD alumni Marcia Connolly, Katherine Knight and David Craig. NSCAD will present a screening of the award-winning documentary at Paul O'Regan Hall, Halifax Central Library, the day before graduation – on Thursday, April 28 at 2 pm. A Q&A with Saunders and Connolly, the co-director and cinematographer, will follow. The screening is free and all are welcome.
Also taking place that day is the opening of the 2016 Graduation Exhibition, NSCAD's largest exhibition of the year. Including the artworks of more than 100 NSCAD graduating students, the exhibition opens Thursday, April 28, 5:30 pm and runs for two weeks at the Anna Leonowens and Port Loggia Galleries.