Kin River Collectiveorganized by Carrie Allison
Exhibition: October 2 – 31, 2018
Opening reception: Friday, October 12, 5 PM
Treaty Space Gallery, 1107 Marginal Road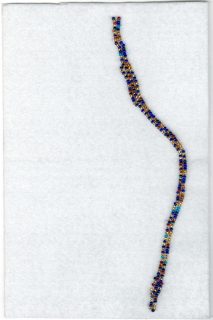 The Shubenacadie River Beading Project is the first project orchestrated by Kin River Collective. This community collaborative project is meant to activate notions of kinship, allyship, and stewardship; it is an act of standing in solidarity with the Stop Alton Gas group. Beading is a gesture of honouring and building community through making.
The aim of this project is for participants, Indigenous and non-Indigenous, to come together and collectively honour the space of the Shubenacadie River. The Shubenacadie River cuts through the center of Nova Scotia and has served as a lifeline for Mi'kmaq peoples since time immemorial. This community-based project stands in solidarity with water protectors and the Stop Alton Gas group; who are actively occupying space along the Shubenacadie River to protest the destruction of the rivers' ecosystem by the environmental threat Alton Gas poses. To find out more about Stop Alton Gas please press here.
This beading project is an honouring of the space of the river. Many hands join together and bead the space of the river, culminating in a forty-foot beading of the Shubenacadie River. Indigenous participants are encouraged to embellish using their ancestral knowledge that has been passed down from generation to generation. Non-Indigenous participants are encouraged to keep in mind settler responsibility and issues of cultural appropriation. This is an exercise in building treaty relations between settlers and Indigenous nations and humans to mother earth.