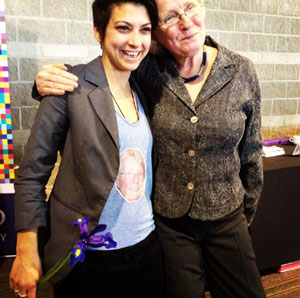 Like most convocation ceremonies, NSCAD's graduation had its share of pomp and pageantry.
But making it truly memorable were all the eccentric, NSCAD-y touches like Eliot Wright's suit trousers, pulled up to show off baby blue check socks, and K.T. Lamond's T-shirt printed with the face of favorite professor Susan McEachern. Valedictorian Maddy Mathews ended her address by inviting her classmates to the stage to throw out art to the assembled crowd and shared some groan-worthy art puns.
Oddest of all perhaps was Andrew Maize, dressed as one of the unicorns from Halifax's Coat of Arms, with a papier-mâché head and flowing tissue paper tail. As he clapped coconut shells together, he clopped on stage to accept congratulations from President David B. Smith and Chair of the Board Michael Donovan. (MP Megan Leslie, one of the many dignitaries in attendance, tweeted afterwards: "Congrats to all of this year's NSCAD grads! Especially to the unicorn.")
But the wackiness went well with the speeches, including those by honorary degree recipients Martha Rosler, who encouraged "all forms of precociousness," and Dr. Thomas Jock Murray, who told graduates "to be original, apply for everything and turn up." Commencement speaker Nicholas Houghton, the first to graduate from NSCAD with a master's degree back in 1975, said he learned about risk-taking and ambition while at NSCAD in the 1970s; back then it was a small art college that was defying expectations by building an international reputation that "went far beyond what anyone ever thought it could do."
"And so must you," he said, a tall, lanky figure hunched over the podium. "Making art, making design should be dangerous. You've got to take risks if you're going to push on."
After the ceremony, percussion band Samba Nova led the procession of graduates out of the auditorium and into a reception. A graduation dance followed later at the Port Campus.
The Graduation Exhibition 2012, a collective show of graduating students' work, is now on display at the Anna Leonowens Gallery, Port Loggia Gallery and Seeds Gallery. Comprising more than 100 artworks, this annual event is the largest display of NSCAD undergraduate and graduate works. It continues at all locations to May 20.