NSCAD University's Honorary Degree Committee is asking the NSCAD community to nominate exceptional individuals to be awarded the degree of Doctor of Fine Arts (honoris causa) or the honorific Life Fellow. Please send your nominations to advancement@nscad.ca by March 25, 2022 at 5 p.m. AST.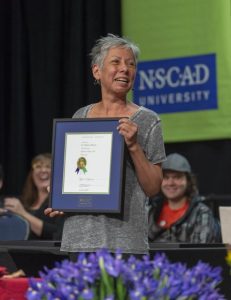 By awarding honorary degrees, NSCAD University seeks to recognize extraordinary achievement, in Canada or abroad, in community, national or international involvement, and to honour those individuals whose accomplishments are of such generally perceived excellence that they provide, through example, inspiration and leadership to the graduates of the university. Their esteem should be such that, by virtue of accepting an honorary degree, their presence will bring honour and distinction to NSCAD University.
Extraordinary achievement worthy of an honorary doctoral degree is excellence or achievement in creating something important and new – new knowledge, a new value, a new perspective, a new capability, a new appreciation, a new event or a new object.
The committee defines as broad a range of categories for achievement as possible in obtaining and considering nominations. In determining the leaders and exemplars to honour, it will seek over time to achieve a balance across disciplines and backgrounds. The committee also considers the association nominees may have with NSCAD University or with higher education more broadly. The committee also attempts to reflect the national character of Canada, including its regional and cultural diversity, and that of the university itself. As such, the committee asks the NSCAD community to consider diversity in all of its dimensions when putting forward a nomination.
For more information on criteria, eligibility, and more, click here.