NSCAD's next Portfolio Day is Saturday, October 16, 2021. If you wish to attend, please sign up here.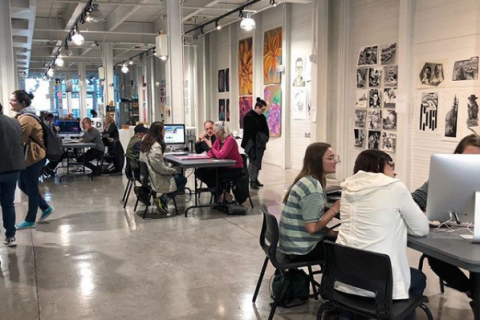 Portfolio Day is a prospective student's best opportunity to visit campuses, tour unique facilities, learn more about programs, and meet faculty and students to learn about what they do here and what you might want to do here, too.
Whether you are applying for fall 2022 and have a robust portfolio or are still a few years away and are just starting to build your portfolio, Portfolio Day can give you a gentle push in the right direction.
You will have a one-on-one appointment with faculty who will review your work and give you feedback on ways you can improve and develop it, which will help you prepare a successful portfolio.
We have scheduled this event to correspond with Nocturne: Art at Night  so plan to spend your day with us then browse all the great art and events at night across the Halifax region. Cambridge Suites offers visitors to NSCAD a discounted rate of stay.
If you have any questions, please email admissions@nscad.ca