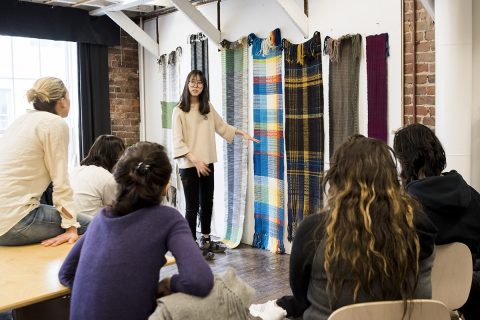 Prospective students from across Nova Scotia and parts of Canada will gather at NSCAD University on Saturday, October 19 for the school's fall Portfolio Day.
Portfolio Day is a great opportunity to visit NSCAD's campuses, tour the facilities, and learn more about the historic art school's programs.
"NSCAD offers a unique environment, where all kinds of students can thrive and build successful careers in the creative industries," said Dr. Aoife Mac Namara, president, NSCAD University. "Whether you're a student who's almost completed high school, or you're an established professional looking to add new skills or even change careers – there's something for everyone at NSCAD."
Twice a year, NSCAD welcomes prospective students and members of the community inside its classrooms and studios on Portfolio Day to give them a taste of what life is like at the downtown Halifax university. Interested prospective students are encouraged to bring their art work to NSCAD during the tour, and select the option for Portfolio Review when they register.
The portfolio review is a one-on-one appointment with a NSCAD faculty member who will provide feedback on ways to improve, and advice on how to develop their work.
"Portfolio Day gives you a chance to shine a spotlight on your creative potential, while receiving advice from professionals who want to help you succeed," said Dr. James Barmby, AVP, Student Experience.
The day begins with a tour of NSCAD's Fountain Campus, followed by visits to the Academy and Port Campuses, respectively. A presentation on admissions procedures and what to expect at NSCAD is also included. Throughout much of the afternoon, the portfolio reviews will be the main focus of everyone's attention.
"All you need is a selection of pieces that show your abilities and range," said Dr. Barmby. "A complete and finished portfolio is not required to have your work reviewed. If you have a sketchbook, bring that too."
Portfolio Day is scheduled to correspond with Nocturne: Art at Night, so those visiting from out of town can stay to enjoy, and interact with, all the great events taking place during the Halifax art festival later that evening.
Registration for Portfolio Day is still open, and participants can sign up by visiting NSCAD's Portfolio Day webpage. For more information, email admissions@nscad.ca or call 902-494-8259.