Thomas Suntherland after James Hakewill,
"Trinity Estate, St. Mary's," 1825, hand-coloured aquatint
Graduate and Artist-in-Residence Fellows
Spring/Summer 2022 Fellows
Emily Draicchio, Graduate Student Fellow
Emily Draicchio (she/her/elle) is a white settler and first generation Canadian of Italian and German descent. She was born and raised in Tiohtià:ke/Montréal and attended McGill University for her undergraduate Degree in Joint Honours Art History and Anthropology. She is currently a graduate student at the University of New Brunswick pursuing a Master's Degree in History under the supervision of Dr. Charmaine A. Nelson and Dr. Stefanie Hunt-Kennedy.
Her Master's research is focused on locating slave quarters in New Brunswick and Quebec and is supported by the Social Sciences and Humanities Research Council. Emily has professional experience working at the Provincial Archives of New Brunswick, Montreal Museum of Fine Arts, and with the Maski Archaeological Research Project in India. Her research interests include the African Diaspora, historical archaeology, Canadian Slavery history, community archaeology, and story mapping.
Project title: Excavating Archives: Searching for Sites of Black Enslavement in Eighteenth- and Nineteenth-Century Canada
Project Summary: Emily's research project aims to bridge her interests in archaeology and Canadian Slavery history to dismantle a piece of the myth of Canada as inclusive, racism-free, and without a colonial history by locating, documenting, and analysing sites of Black enslavement such as slave quarters in Québec and New Brunswick (c.1700s-1800's). This problematic narrative of Canadian exceptionalism is founded upon a national history that romanticizes the Underground Railroad, while neglecting Canada's direct participation in the enslavement of Black and Indigenous peoples.
She will approach her research through the examination of archival materials, oral history, and ethnographic sources generated by African Diasporic communities, as well as by completing interviews, reconnaissance surveys, and GIS site mapping with a story map component. This research will be an important contribution to new accounts of Canada's history that emphasize the enslaved experience as a strategy of decolonization, and to recognize how the past has been mobilized to maintain exceptionalism and racism in the present.
Her research will address the following questions: 1) by working comparatively with archival, oral, and archaeological records, how will documenting, and analysing sites of Black enslavement inform us about the daily lives and living conditions of the enslaved in Canada, as well as their distinct cultural identity, community bonds, and acts of resistance?, 2) How can historical archaeology help dispel the widespread constructed narrative that Canada did not participate in the Transatlantic Slavery?, 3) What is the relevance of this research in relation to present issues of representation, power, racism, and inequality in Canadian society?, 4) How will research on the slave minority society of eighteenth- and nineteenth-century Canada provide more diverse archaeological evidence that will be more inclusive and representative of histories of the African Diaspora and slavery?
Unlike the United States, Caribbean, and South America, where archaeological research on sites of Black enslavement (particularly plantations) has been well-explored, within Canada there have been only a handful of archaeological studies about the enslavement of Black populations and the African Diaspora concerning Black Loyalists and enslaved people in Nova Scotia. Emily therefore intends to use the data she collects for her Master's thesis described above as the foundation for her future doctoral research where she will investigate these sites in Quebec and New Brunswick through community-based archaeological fieldwork with descendant participants.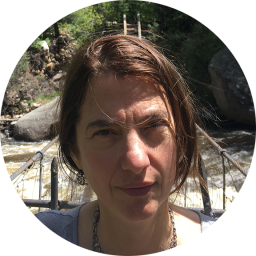 Amanda Trager, Graduate Student Fellow
Amanda Trager is an American intermedia artist who lives in the U.S. and Nova Scotia.  Her research-based work situates narratives within distinct aesthetic realms. Primarily known for her work made in collaboration with her husband Erik Moskowitz, she has exhibited and screened work internationally at venues that include Centre Pompidou, Jeu de Paume (Paris); IFFR (Rotterdam); Reina Sofia, (Madrid); Haus der Kulturen der Welt (Berlin); The Mexicali Biennial (California and Mexico); 303 Gallery and Participant Inc., NYC. This work has been supported by art residencies at the Montalvo Arts Center and Headlands Center for the Arts, both in California. She, with Moskowitz, have been the recipients of grants, including numerous ones from the New York State Council for the Arts (NYSCA) and awards, including the Short Film Grand Prize, IndieLisboa (Portugal). 
Trager's projects are often realized in different forms over timespans of several years. These forms include single-channel film, video installation, web-based and two- and three-dimensional artworks. Narrative, emerging from original scripts, individual interviews, and oral history, is fundamental to her work, which is characterized by a distinct aesthetic based in songwriting and ventriloquism, offbeat tempos, and the depiction of the natural environment at odds with the hand made.    
Project title: CONTROLLED BURN
Project summary: Trager has embarked on a mid-length animated film derived from the study of the relationship between two historical figures — the Portuguese-born enslaved Black female Marie-Josèph Angélique, and the French-born white indentured servant Claude Thibault. Accused of purposely starting the great 1734 Montreal fire, the two were bound by their mutual devotion and shared quest for freedom. 
Trager's vision for her film relies upon the innovations of Art Spiegelman, Marjane Satrapri, and Alison Bechdel, who combined the graphic novel with the memoir form, and Richard Linklater's Rotoscoped-style animated films. These works lend high accessibility to challenging content such as the Holocaust and the nature of consciousness. Borrowing from these artists' use and development of the "adult comic" form, CONTROLLED BURN will recount Angélique and Thibault's story within the context of the history of slavery in Canada, and the hemispheric scope of slavery more generally.  
The theme of allyship across race and gender will also be interrogated, originating with the vulnerabilities inherent in Trager's own positionality as a non-Canadian white settler. Interviews with historians and other experts will ground Trager's inquiry, and be combined with re-enactment scenes from Angelique and Thibault's lives — including their flight through the wintry Quebec forests, a "freedom" that lasted two weeks. This varied footage will become visually integrated through animation software. Production for this project will take place at the Darling Foundry in Montreal where Trager will be an artist-in-residence in 2023.  
Past Fellows - Winter 2022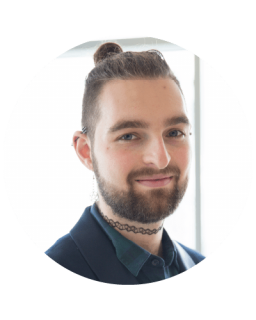 Chris J. Gismondi, Graduate Student Fellow
Chris J. Gismondi (he/they) is a queer, white, Qallunaak-zhaaganaash-settler, first generation "Canadian" of Scottish and Italian descent, born and raised on Nanzuhzaugewazog, Dish with One Spoon, Head of the Lake Treaty no. 14 (1806), Michi Saagiig Nishnaabeg territory. Chris is a PhD Candidate at the University of New Brunswick completing his doctoral project under the guidance of Dr. Charmaine A. Nelson. His Doctoral and Master's work have been sponsored by SSHRC and he also serves on the Advisory Board for the Institute for the Study of Canadian Slavery. His curatorial work has spanned institutions like La Guild, Leonard and Bina Ellen Art Gallery, and Government of Ontario Art Collection. Along with Dr. Nelson and an undergraduate seminar he contributed to the grassroots "Slavery and McGill University: Bicentenary Recommendations" and three other public facing projects: Fugitive Slave Advertisements, Bills of Sale for Enslaved People: Quebec, Canada, and Slavery Tour of Montreal. His writing has been published in Canadian Art, Canadian Art Review, The English Historical Review, Esse: art + opinions, Peripheral Review, and Arcadia: Environment and Society.
Project summary: Chris' research project examines the unique and under studied site of Upper Canada. In Canadian Slavery research the most recent contributions have focused on Québec and the Maritimes. However, as a northern, temperate, and non-maritime location the process of slavery, colonization, and gradual abolition played out in the unique context of French Empire, American Revolution, and Loyalist settlement. One main line of inquiry is how enslaved women and families navigated the gradual abolition of 1793 and if processes like flight were used to resist the reproductive violence of the slow emancipation process. Using art, archival sources, artefacts, and fugitive slave advertisements the project hopes to explore how women and families resisted or navigated the process of gradual abolition, what response was evoked from the white slaveowners, and explore the nature of slavery for in-land Canada. How were the Great Lakes and waterways used as additional "Middle Passages" or resistance? What role did free(d) families, partner, and community play for enslaved subjects and mixed servitude families? How were Indigenous nations who raided Patriot plantations implicated in the expansion of Transatlantic Slavery alongside the presence of enslaved Indigenous peoples in the records? How does the temperate settler archive challenge what histories can be known, told, or challenged?
Watch Chris's presentation from his April 13, 2022 Fellows Talk.
Tyshan Wright, Artist-in-Residence Fellow
Tyshan Wright hails from the historic Maroon Town of Accompong in St. Elizabeth, Jamaica. A "Keeper Of The Heritage" (Jamaica Gleaner) and maker of Jamaican Maroon instruments and cultural objects, his work explores intersections between traditional and contemporary craft. Working primarily with wood and natural forest products, he creates mixed media representations of Jamaican Maroon ceremonial objects. Since moving to Halifax a few years ago, Wright's artwork has been acquired by the Nova Scotia Art Bank and presented in exhibitions and artist talks at Canadian galleries and museums including the Art Gallery of Ontario and the Canadian Museum of Immigration at Pier 21.
"The Maroons' most sacred objects include a series of traditional drums, and a carved cow's horn called an abeng. Traditionally these instruments are used in celebration and ceremony, and for centuries they have played a central role in Maroon culture and spirituality. But when a group of Maroons from Trelawny Town were exiled to Halifax in 1796, they were denied their ceremonial instruments. And so I want to bring these sacred objects to Nova Scotia, and connect this important part of Maroon culture to the Canadian and African diasporic narratives."  —Tyshan Wright
Project title: The Trelawny Town Maroons: Between Sovereignty and Slavery
Project summary: The Trelawny Town Maroons: Between Sovereignty and Slavery examines the behaviours and cultural practices of Jamaican Maroons in colonial Nova Scotia, and the effects of colonialism and Transatlantic Slavery on the Maroons' sovereignty.
Jamaican Maroons are descendants of Africans – largely from the Akan region of Ghana – who resisted slavery and formed their own independent, self-sustaining communities in the mountains of Jamaica during the 1600's. In 1796, a group of them was exiled from Trelawny Town – a region of Jamaica's remote Cockpit Country – to Halifax (Nova Scotia) after a conflict (war) with British colonials who controlled the island. In Nova Scotia, the Maroons lived in communities at Preston and Boydville, engaged in military service, farmed and sold goods at the Halifax market, and worked on fortifications at Citadel Hill. But they did not favour Nova Scotia's cold, and so they petitioned to move to a warmer climate. Almost all of the Maroons sailed from Halifax to Sierra Leone in 1800. Even still, many of their descendants can be found in Nova Scotia today.
The Trelawny Town Maroons: Between Sovereignty and Slavery creatively considers the Maroons in Nova Scotia, and asks how the Trelawny's navigated the complex space between sovereignty and slavery in a new society. The project's resulting artwork will illuminate the Maroons' struggle for autonomy in a slaveholding society, and spark new narratives about this lesser-known group of settlers to Canada's eastern shore.
In 2022, Tyshan was shortlisted for the National Gallery of Canada's Sobey Art Award. Read more about his recognition in the articles below

His ancestors were forbidden from bringing their instruments to Canada; that's why he makes them today – CBC, July 22, 2022

The past informs the future – Visual Art News, June 16, 2022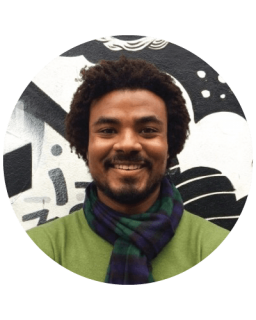 Jason Cyrus, Graduate Student Fellow
Jason Cyrus analyzes fashion and textile history to explore questions of identity, cultural exchange, and agency. He is the 2021 Isabel Bader Fellow in Textile Conservation and Research at the Agnes Etherington Centre, Queens University. This October he will present his research in History is Rarely Black or White, an exhibition exploring Victorian cotton, slavery, and its ongoing legacies.
Cyrus has a Master's Degree in Art History and Curatorial Studies from York University and starts his PhD in the History of Art at Warwick University in October 2021. He has held research posts at the Art Gallery of Ontario and the Royal Ontario Museum. In January 2020, he curated York University's first fashion exhibition, ReFraming Gender. Cyrus currently lives on land that has been the home of numerous Indigenous Nations, including the Wendat, Haudenosaunee, the Anishinaabek, and most recently the Mississaugas of the Credit First Nation.
Project title: Dressing for the Resistance: Style as Amour Among Black Canadians
Project summary:  "My research project will result in an exhibition proposal that will chronicle Black Canadian history from the perspective of dress, enslavement, and resistance. My research explores the ways in which the policing of Black identity, originating during enslavement, has resulted in the oppositional methodology of style as resistance by Black Canadians from the 1800's to present.
My project examines three periods in Canadian history that together illuminate the impact of slavery on Black identity and its manifestations in Black aesthetics and sartorial choices: the 1800's when slavery was supported by British law; the 1950-70's that saw a large influx of Black people from the Caribbean and elsewhere; and our contemporary time that reflects the current social "awakening.""
Emergent themes: the restrictions on dress styles imposed on Black Canadians during slavery; the adoption of "respectable" dress as a means of counteracting negative perceptions of Blackness by new immigrants; and the use of "fabulous" style as armour by the Black queer community as protection against intersectional oppression. I will ground this historical overview in the stories of Black Canadians relevant to each period through a combination of archival research, dress analysis, and primary source interviews. The resulting exhibition proposal will discuss how this information can be presented in curatorial form.
Listen to Jason's CBC Radio's Mainstreet interview about his project.
Watch Jason's presentation from his January 18, 2022 Fellows Talk.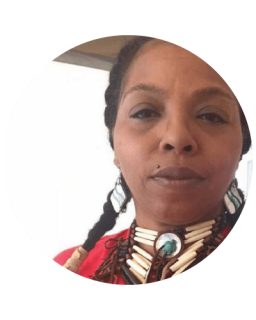 Tonya "Sam'Gwan" Paris, Artist-in-Residence Fellow
Tonya Paris, also known as Sam'Gwan, is an established Mi'kmaq and African Nova Scotia artist activist based in Halifax, Nova Scotia; which rests upon the unceded traditional Mi'kmaq territory. Over the past five years Sam'Gwan, has had several art exhibits and installations within the Nova Scotia community. Most notably her contributions to the Dalhousie University Architectural Building, the Nova Scotia QEII Mental Health Unit and in 2017 when she received the bronze medal for Visual Artist of the Year, from the Halifax Coast.
In 2019, she was invited to be a guest speaker at York University and The University of Miguel, for her work with the Proclaiming Our Roots, Archive Project. Her most recent projects have been her contribution to the award nominated 2020 Aboriginal Public Television Network production, Racism Lives Here Too, with Trina Roache and the production of Season 3 of DIGGSTOWN. Sam'Gwan is the Indigenous artist consultant and primary contributor for the hit television series set to be featured on the Fox and B.E.T networks in 2021-2022.
Passionate about equality and empowering others through education and art, Sam'Gwan will be a guest speaker this fall for both the Halifax Central Library and the Nova Scotia Career Development Association on the topics of anti-racism and anti-oppression. She is a regular collaborator with the Mi'kmaw Native Friendship Centre, and is known throughout the community for her commitment to seeing positive change.
Project title: Freedom Is No Game
Project summary: The installation, Freedom Is No Game is artist Sam'Gwan's response to Canada's legacy of Indigenous residential school systems and historic involvement with the Transatlantic Slave Trade.
In both instances Black and Indigenous communities were not seen as free people. Instead, their lives were viewed as obstacles, resources to be exploited, inventory to be to be sold, traded or trained to have better value for their owners and government. This colonial and racist mindset, inspired the Black and Brown communities to be seen as pieces to be denied freedom and equality by the players calling the shots. It is this racist history, and this narrative that has inspired the vision for Freedom Is No Game, a one-of-a-kind custom giant chess set.
Featuring an old-world aesthetic of wood, gold, and traditional dress mixed with contemporary technology, it is a celebration of the cultural heritage of African, Caribbean, and Indigenous communities impacted by the Transatlantic Slave Trade. The objective of Freedom Is No Game, is to create an installation that engages people of all ages, draws viewers in, and changes them. We know how "the game" was played. Now it is time to consider what are the positive moves, Canadians as individuals can make to continue the process of undoing the damage of the past and creating a better tomorrow? The installation, Freedom Is No Game, is one we hope can be featured and interacted with during Black History Month and National Indigenous Day for many years to come.
Listen to Sam'Gwan's CBC Radio's Mainstreet interview about her project.
Watch Sam'Gwan's presentation from her December 14, 2021 Fellows Talk.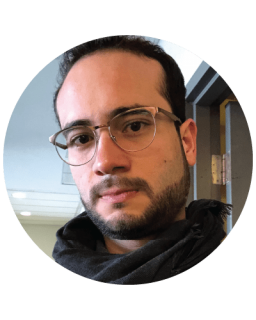 Bruno R. Véras, Graduate Student Fellow
Bruno R. Véras is a historian and cultural producer native of Recife, Brazil. His research interests include the African Diasporas, West African history, the transnational history of slavery, and the memory of slavery and reparations. His work also focuses and engages with public history, digital humanities art-education, and creative scholarship. He was the UNESCO consultant for African-Brazilian studies and museum exhibitions at FUNDAJ, Brazil (2014) and directed the awarded anti-racism art-educational projects in the Global South (2015). He produced and directed several documentaries, video series and podcasts in Egypt, Brazil, South Africa, Nigeria, and Canada. He also served as researcher and consultant in different experimental drawing exhibits (2016), theater plays based on biographies of enslaved Africans (2017), dancing performances (2018), and experimental fictional television series (2019). He has been contributing to the executive and advisory board of several research institutions such as The Harriet Tubman Institute (2017-2019), The Centre for Research on Latin America and the Caribbean, CERLAC (2020-2021) and the Institute for the Study of Canadian Slavery (2021).
He had been awarded research funds from the Brazilian Ministry of Culture and Education (2014), UNESCO (2014), Government of Ontario, OGS (2017), York University (2018-2021), Mitacs (2020) and the Centre International de Recherches sur les Esclavages, CIRESC EHESS (2021). He has worked under the The Zdenka Volavka Art-History Research Fellowship (2020), the Paavo and Aino Lukkari Human Rights Award (2020, 2021) and the York University Anti-Black Racism Initiative Fund (2020-2021). He is currently a Ph.D. candidate in History at York University and the director for the art-based public history UNESCO project Fragments of Memory: Artistic Representations of Diaspora Lives (Slave Route Project, UNESCO).
Project title: The Canadian press on "Quant à ce qui concerne Bahia": White fear, Diplomacy, Abolitionism, and the News Coverage of the Muslim African slave rebellions
Project summary: This project lies at the intersection of the Age of Revolutions and the global history of slavery in the complex political landscape of nineteenth-century Canada. My research will use post-colonial strategies to read the transnational links between slave rebellions, anti-slavery debates, colonial policies, and ideologies through the Canadian and international press. Journalists in the "Canadas" the "Maritimes," and other parts of the world covered events such as Haitian Revolution (1791-1804), the Nat Turner Rebellion in the United States (1831) and the Sam Sharpe Rebellion-Baptists War in Jamaica (1831-32) in great detail, providing a window onto the views and political opinions of contemporaries. A combination of white fear of slave resistance in the Americas and support for the abolition of the slave trade drew Canadians' attention to these events. My research will focus on news coverage about the Malê Uprising of 1835 in Bahia, Brazil, organized by enslaved Muslim Yoruba and Hausa people.
The research will focus on newspaper material available in four different Canadian provincial archives. The newspaper information from Canadian archives and repositories will be then curated and combined with primary references in eleven different languages about the event for further transnational contextualization. The methodology for the research, in addition to the formal exercise of searching in physical archives in Canada, also involves the use of data mining techniques in digital repositories.
Listen to Bruno's CBC Radio's Mainstreet interview about his project.
Watch Bruno's presentation from his December 2, 2021 Fellows Talk.