Known for producing many of the region's most renowned photographers, filmmakers, media artists, and technicians, NSCAD's Media Arts Division is home to the photography, film, and intermedia programs, along with a minor in animation.
Known for producing many of the region's most renowned photographers, filmmakers, media artists, and technicians, NSCAD's Media Arts Division is home to the Photography, Film, and Intermedia programs, along with a new minor in Animation.
Media Arts is housed within the historic, but fully renovated Academy Campus on Brunswick Street. Given the collaborative nature of all three programs, the Division has a tight-knit student community who collaborate on projects both in and outside of the classroom. Throughout the year, you can look forward to attending on-campus screenings, shows, talks, film nights, and more.
Led by award-winning faculty who show their work around the world, our students have been known to receive international awards and grants, even while still in school! Be successful in the creative industries doing what you love.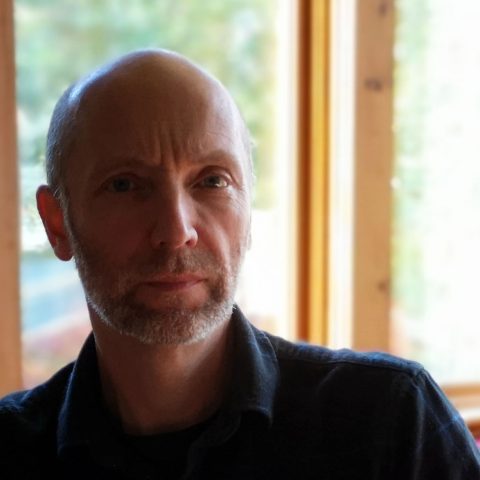 SAM FISHER
A graduate of the London International Film School, Sam has worked for over twenty five years in the professional film industry. In 2004 his short film Scary Stuff won Best Short Film at the Chicago International Children's film festival and Best Editing at the Atlantic International Film Festival. In 2010, working with industry partners, Sam developed the Andra System, providing near perfect focus to within millimeters at speeds that far exceed the capabilities of human focus pullers. In 2015 Sam was awarded the Junior Library Guild, won the Hackmatack Children's Choice Book Award, and was nominated for the Manitoba Children's Choice Book Award for his book, Scare Scape.
Email Sam.
DR. BRUCE BARBER
Bruce Barber is a Professor Emeritus. He holds a BFA and an MFA (Sculpture) from Auckland University, an MFA (Intermedia) from NSCAD University, and a PhD (Media and Communications) from The European Graduate School in Switzerland. His artwork has been exhibited internationally and is represented in various public and private collections. He is also an editor and author, with critical essays appearing internationally in numerous anthologies, art journals, and magazines.
Email Bruce.
DAVID CLARK
David Clark, MFA in Sculpture, School of the Art Institute of Chicago, Whitney Museum Program, Canadian Film Centre. Clark is a media artist, filmmaker, and visual artist who has produced work for the internet, gallery installations, narrative films, and public art commissions. His work has been shown at the Canadian Embassy in Berlin, Biennale Nationale de Sculpture Contemporaine, Trois-Rivières, Sundance Film Festival, SIGGRAPH, European Media Arts Festival, Transmediale, 2012 Winter Olympics, and the Museum of Moving Images in New York. He won First Prize at FILE2002, Sao Paulo and the 'Best in Show' at the 2003 SXSW Interactive Festival in Austin, Texas. In 2006 the MICA Galleries in Baltimore organized a survey exhibition of his work. He has recently been included in major surveys of electronic literature at museums in Mexico City and Barcelona. 88 Constellations for Wittgenstein was included in the Electronic Literature Collection #2 and won the Lieutenant Governor of Nova Scotia Masterworks Award in 2011.
Email David.
DR. LEAH DECTER
Dr. Leah Decter is an inter-media/performance artist and scholar based in Winnipeg, Canada, Treaty 1 Territory. She is NSCAD's Tier 2 Canada Research Chair in Creative Technologies and Community Engagement. Working from a critical white settler perspective, her research, writing and artwork/research-creation contend with the ways artistic production can subvert colonial ideations embedded in the settler imaginary and contribute to decolonial and non-colonial paradigms. Decter holds a PhD in Cultural Studies from Queens University and an MFA in New Media from Transart Institute.
In 2019-20 she was a SSHRC Postdoctoral Fellow at York University's School of Arts, Media, Performance and Design/Sensorium Centre for Digital Arts and Technology, and in 2017 she was a Visiting Research Fellow at the University of New South Wales' National Institute for Experimental Arts. Her current research-creation/art projects address social-spatial politics consequent to settler colonial formation and consider the ethics of being-in-relation in spaces of Indigenous sovereignty.
Email Leah.
ADRIAN FISH
Adrian Fish holds an MFA from York University, and an undergraduate accreditation from OCAD University and the Sheridan Institute of Technology and Advanced Learning. His work has been shown in numerous public institutions, artist-run centres, and commercial galleries and has appeared in publications including Canadian Art, VICE, and WIRED.
Email Adrian.
SOLOMAN NAGLER
Solomon Nagler's films have been featured in retrospectives across Canada and internationally at the Festival de le Cinéma Different in Paris, Robert Heald Gallery in Wellington, New Zealand, The Artist Film Workshop in Melbourne, Australia, and Kino Arsenal in Berlin. He holds an MFA in Film Production from Concordia University and an Honours BA in Philosophy from the University of Winnipeg. He is co-founder of WNDX: Festival of the Moving Image in Winnipeg.
Email Solomon.