President: Sunil Sarwal (BDes 2002)
Vice President: Duane Jones (BDes 2004)
Treasurer: VACANT
Secretary: Bruce Sparks (BFA 1977)
Member at Large: Carol Morrison (BFA 2005)
Member at Large: Robin Jensen (BFA 1996)
Member at Large: Ken Rice (BFA 2005)
Member at Large: Ashley Delaney (BDes 2006)
Member at Large: Gerard McNeil (BFA 1994)

MEETING SCHEDULE
Tuesday 11 October 5pm
Tuesday 15 November 5pm
Tuesday 6 December 5pm
Tuesday 24 January 5pm
Tuesday 21 February 5pm
Tuesday 21 March 5pm
Tuesday 18 April 5pm
NSCAD President: Dr. Peggy Shannon
SUNSCAD President: Olivia Fay
ALUMNI ASSOCIATION REPRESENTATIVES TO NSCAD'S BOARD OF DIRECTORS
Sunil Sarwal (BDes 2002)
Bruce Sparks (BFA 1977)
Meeting Schedule
March 9, 2021
May 11, 2021
July 13, 2021
September 14, 2021 (AGM)
The NSCAD University Alumni Association is a dynamic, member-focused organization that aims to enrich the alumni experience and build the profile of its members and NSCAD University.
By facilitating communication and sponsoring a variety of alumni programs, events and benefits the NSCAD University Alumni Association:
promotes a strong mutually beneficial relationship between alumni, NSCAD University, and the community;
fosters an inclusive environment based on cooperation and fellowship;
assists and advances present and future alumni in the pursuit of excellence;
exerts influence as a valued partner on matters relevant to present and future alumni
Read our bylaws.
Haven't heard from us in a while? Update your contact information to help us stay in touch with you!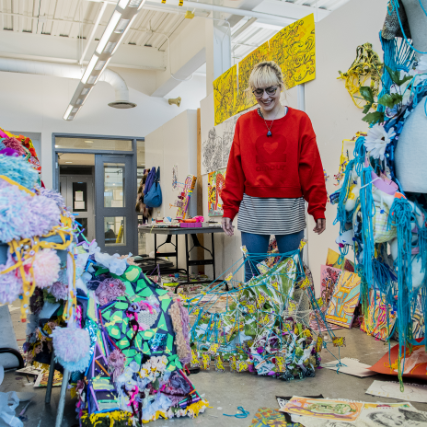 Anna Lisa Shandro (BFA 2020)
To draw attention to the entrepreneurial spirit and ingenuity of art and design graduates, the NSCAD Alumni Association launched the I AM NSCAD campaign. Logos are provided in various sizes and types suitable for websites, social media (#IAMNSCAD), email signatures and more.

Hi all,
I'm thrilled to join the Alumni Association's Board of Directors as a Member at Large. As a proud graduate (BDes 2006), I have reflected fondly on my time at NSCAD and how it has truly shaped me all these years later. Like many of us experience after graduation, life takes over and soon the years seem to go faster as each one passes. For me, joining this team means I can get back to a community I love. I can get back to where I'm most passionate and where my experience allows me to create impact for others. I look forward to the (re)connection and contribution to our NSCAD alumni community, now and as we move forward.
A few updates for you this month:
The NSCAD Alumni Ring Design Competition is still live and open to recent graduates (2018–2022) and current students of the Jewellery & Metalsmithing program. The deadline for submissions is Thursday, December 8th at 5pm. Questions can be directed to Greg Sims gsims@nscad.ca.
The second annual NSCAD Alumni Association Holiday Party will be hosted at the Marquee Ballroom on Thursday, December 1, from 5:30 to 7:00pm. We hope you will join Dr. Peggy Shannon and members of the Alumni Association for a great opportunity to connect in person. For those of us with an alumni ring designed by Karen Konzuk (BFA 1997), I hope to see them! Send your RSVP at rsvp@nscad.ca.
In the meantime, and as always, we want to hear from you! You can join the conversation in our NSCAD Alumni groups on Facebook and LinkedIn, follow and tag us on Instagram (@nscadaa), or just send an email to president@nscadalumni.ca.
I look forward to connecting!
Ashley Delaney (BDes 2006)
Member at Large, NSCAD Alumni Association

As NSCAD alumni, you have privileged access to the TD Insurance Program, which provides savings through lower preferred insurance rates. Plus, by choosing TD Insurance you also give back. TD Insurance Program contributes to NSCAD University every year, so while you benefit from savings, you will also be supporting your alma mater.
Get a quote by calling 1 800-339-1847or visiting tdinsurance.com/nscadalumni
A transcript is a complete record of your academic history. It lists classes in progress, classes that have been completed, grades received and other information relating to your academic career. Transcripts are printed on security paper and bear the signature of the Registrar. Students can request either an official or unofficial copy of their transcript. Click here to learn more about how to request a transcript.
The NSCAD alumni ring celebrates a lifelong connection to your academic and creative achievements. Designed and produced by Karen Konzuk (BFA 97), this stainless-steel band incorporates the official NSCAD colour with a side incision of purple powder-coated finish. Inside the band is an engraved Latin inscription of NSCAD's informal school motto nolo facere insipida, after John Baldessari's lithograph I Will Not Make Any More Boring Art. To purchase, please select your ring size from the dropdown below and click "buy now". Rings are $200 ($247.25 with tax and shipping within Canada).
Custom-designed frames from Tempo Framing are available to all alumni. Present your degree alongside the NSCAD University colours in a slick matte-black metal frame with branded mat board cut specially for our square degrees. These frames are made in Canada and come pre-assembled. Frames are $70.00 ($103.50 with tax and shipping within Canada).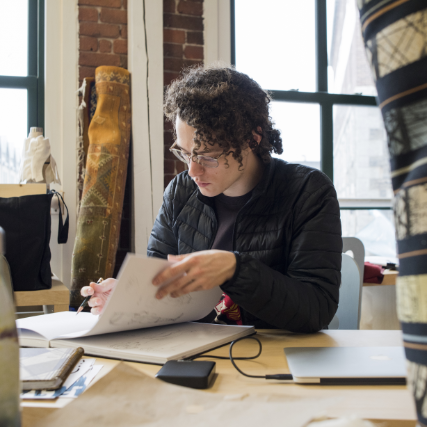 Class Notes is your opportunity to reconnect with classmates and tell them what you've been up to since graduation. Share your news and updates by filling out the form and feel free to include links to your social networking profiles and websites.