Major Construction Projects
NSCAD's campus is located on three distinct sites in downtown Halifax: The Fountain Campus, the Academy Campus, and the Port Campus. The university's Facilities Management department provides complete project delivery services for renovation work to these buildings, which at times involves major capital construction projects.
We welcome feedback throughout all phases of project timelines. Please share your comments through the form at the end of this page.
Project 1:Port Campus Renovation Project
NSCAD recognizes the need to move programming from the Fountain Campus given the building's growing deferred maintenance concerns and the Province of Nova Scotia's new accessibility legislation (effective 2030), which together create the inevitable need for purpose-built, accessible facilities. NSCAD announced in May 2021 it selected Moriyama and Teshima Architects to lead its Port Campus renovation project in collaboration with local firm Fathom Studio.
The firm is leading NSCAD through the project's plan and design that will optimize space utility, improve building accessibility and sustainability, and help create a rich, positive experience for all members of the academic community.
The project includes relocating jewellery, textile and fashion studios from the Fountain Campus to the Port Campus, which will bring all craft departments under one roof. The university's ongoing consultations with its faculty, staff, students and stakeholders continue to inform the evolving space usage for classes, studios and common use areas.
Feedback from this engagement is helping to shape the project's ongoing planning and design work. Some of the current concepts for the renovation  are shown below (for reference only, not actual construction).

(will be updated with ongoing changes as needed)
Project 2: Facilities Options Analysis
Following a thorough facilities options analysis conducted by Colliers Project Leaders, NSCAD continues to study the opportunity to relocate all of its operations and programming within one location to create a unified university community through strategies that will:
optimize space utilization for greater occupancy
create state of the art studio spaces for teaching and research
improve accessibility for learning, teaching and research spaces
promote equity, diversity, inclusion, and decolonization through consultation with students, faculty, and staff
improve organizational and operational sustainability
NSCAD is currently exploring the opportunity to lease the existing vacant tenant space at the Halifax Port known as Shed 22 and Shed 23, and is advancing Phase 2 of its Space Needs Feasibility Study to:
investigate existing site conditions
verify the accuracy of existing drawings
develop a test fit based on study's Phase 1 functional program
develop a 'Class D' construction cost estimate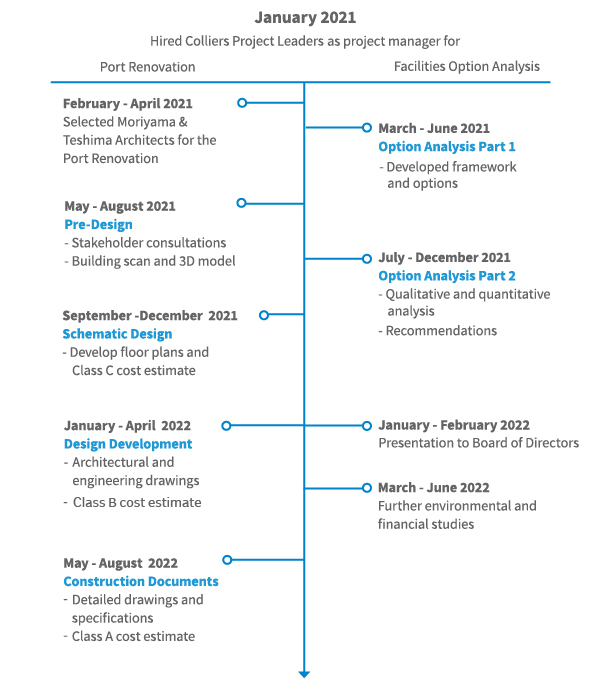 Timing of construction is pending funding/financial plan.
Please share your comments on all phases of project timelines through the form below.