Major Construction Projects
NSCAD University has three small campuses in downtown Halifax—the Fountain Campus is made up of 19 interconnected former Victorian merchant shops; the Academy Campus is a charming 19th century building that was once a high school; and the Port Campus is a sleek converted warehouse overlooking the Halifax waterfront.
NSCAD's Facilities Management department provides complete project delivery services for renovation work to all of the university's buildings, which at times involves major capital construction projects.
unified campus at the halifax seaport
Reuniting NSCAD's community in a purpose-built, accessible and iconic creative facility
 NSCAD University has signed a long-term agreement with the Halifax Port Authority (HPA) to create an accessible, unified campus that will be the cornerstone of the vibrant creative and social district at the Halifax Seaport. 
Reuniting NSCAD's community in one location at the Seaport will help leading-edge artistic pursuits and cultural exchanges engage the community and encourage response. Creating a stronger sense of community will also promote equity, diversity and inclusion, and enhance organizational and operational sustainability.  
The leased spaces at Shed 22 and 23 will add approximately 100,000 square feet to NSCAD's existing footprint at Port Campus to better serve the spatial and programmatic needs of the art school's vision for the future.  
While the agreement with HPA is a bold and foundational first step, there is much engagement and planning work ahead with the NSCAD community before any aspect of design begins, and all aspects of the project will evolve over the coming years. The timing of actual construction is pending the project's financial plan.
Listen to NSCAD President Dr. Peggy Shannon talk about a unified campus from the newly leased Shed 22.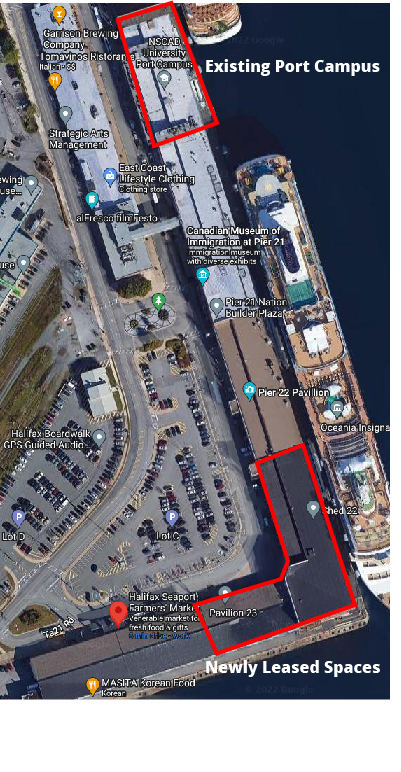 Port Campus Renovation Project
NSCAD announced in May 2021 it selected Moriyama and Teshima Architects to lead its Port Campus renovation project in collaboration with local firm Fathom Studio. The project will allow NSCAD to move programming from the Fountain Campus to the Port Campus ahead of the Province of Nova Scotia's accessibility legislation that will require all public buildings to be fully accessible by 2030 (not a  practical reality for the Fountain Campus's Victorian mercantile buildings).
The firm is leading NSCAD through the project's plan and design that will optimize space utility, improve building accessibility and sustainability, and help create a rich, positive experience for all members of the academic community.
The project includes relocating jewellery, textile and fashion studios from the Fountain Campus to the Port Campus, which will bring all craft departments under one roof. The university's ongoing consultations with its faculty, staff, students and stakeholders continue to inform the evolving space usage for classes, studios and common use areas.
Feedback from this engagement is helping to shape the project's ongoing planning and design work. Some of the current concepts for the renovation  are shown below (for reference only, not actual construction).