The Bachelor of Fine Arts, Major in Fine Arts program gives students the unique opportunity to specialize in a selected area while also exploring other fine art disciplines. You will learn how to manipulate a broad range of materials, articulate an awareness of the historical and conceptual roots of your work, take creative risks and overcome artistic challenges—these are necessary skills for any successful artist to possess.

Division: Fine Arts/Foundation
Degree: Bachelor of Fine Arts
Program: Major in Fine Art

Program Length: 4 years (see Degree Requirements)

Admission Deadline: March 1 for September; October 1 for January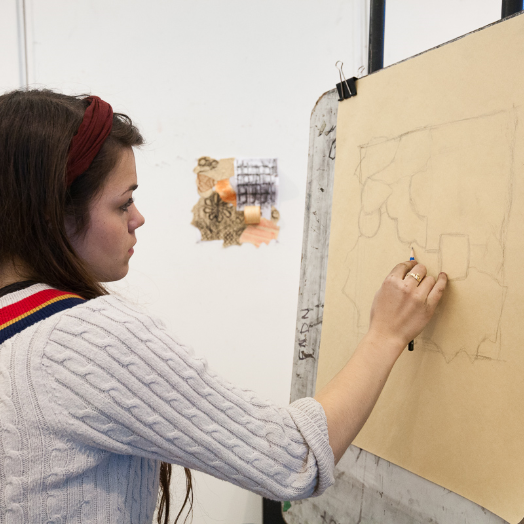 The principal courses in the fine art major allow you to explore the media and practices of drawing, painting, printmaking and sculpture:
Drawing: Drawing courses develop skill in the use of material, techniques and processes relevant to observational and experimental modes of drawing production. Traditional and contemporary approaches to drawing allow students to engage, through research, production, reflection and analysis, with the relationship between their drawing practice and contemporary culture.
Painting: Painting develops technical proficiency and critical thinking skills beginning with a focus on observational painting leading to explorations of abstract, non-objective and expanded notions of the medium including non-conventional use of material, surface and process. A program goal is to produce well-balanced and versatile graduates whose knowledge allows them to participate in the diverse realm of contemporary artistic culture.
Printmaking: Printmaking courses are designed for students who are interested in using print media as a part of an interdisciplinary practice, or for those who are committed to specializing in the discipline. Course work provides students with opportunities to develop unique methodologies for making artwork while also introducing them to the diverse range of print media's historic and contemporary applications. Printmaking at NSCAD facilitates an exploration of print media that values experimentation and emphasizes exploratory research. Long-established printmaking processes—lithography, screenprint, relief, intaglio, letterpress and book arts—are taught alongside post-modern processes of collaboration, appropriation and dissemination. Area faculty offer courses and mentorship at the BFA, Post- Baccalaureate and MFA levels.
Sculpture: The sculpture program will provide you with the opportunity to articulate your creativity in the material world. Your ideas will be manifested in form and you will gain an understanding of sculpture from a historical context, as well as explore contemporary sculpture as it relates to both new and existing technologies. Interdisciplinary practices are welcomed and encouraged, whether it is in object making, installation, performance, art in public spaces, or a host of other cross disciplinary approaches–the choice is yours. Traditional sculptural materials such as wood, metal, concrete, plastics, fibers, etc. can be explored and incorporated with current and future technologies in digital media and computer aided design. Our program welcomes a wide range of methodologies and inquiry, and encourages a multi-disciplinary approach to sculptural practice.
In addition to your chosen area of study, you will have the opportunity to take other courses that explore a diverse range of visual arts concerns from an interdisciplinary approach. At the senior level, these courses also provide you with opportunities for internship placements in galleries, museums and artist-run centres.
Graduates of NSCAD's fine art major are successful studio artists, gallery administrators, film/theatre set designers, illustrators, professional printmakers and arts writers. Many pursue graduate studies and become critics, curators, architects, gallery/ museum archivists and college/university professors.
What Our Fine Art Students Can Expect
– The Fine Arts facilities are divided between the Fountain and Port campuses. Many of the studios are accessible twenty-four hours a day, seven days a week. The Fountain Campus has studio spaces for all levels of painting, including dedicated studio spaces for advanced-level students. Large classrooms are dedicated to advanced drawing courses. There is also a spray booth and an individual stretcher-making area that students can use under the guidance of a technician.
– A faculty of accomplished artists, scholars, educators and leaders in their craft with diverse backgrounds that offer students a wide range of skills, information and opinion.
– Through mentorship, practice and discussion, you will form and articulate an awareness of the historical and conceptual roots of your work. You will develop technical and critical skills and progress to advanced levels of independent study.
Survey of 20th C Art: This course will provide a survey of twentieth-century practices and media in Western art within their social, political and philosophical contexts.
Science Into Art: This studio course will look at work of artists who use questions, materials and processes in the realm of scientific enquiry to make art. Current issues such as health care, environmental issues, along with the tradition of art and science as partners will appear as studio exercises and projects.
What's Love Got to Do With It?
What's Love Got to Do With It?: Painting isn't always easy to love. It can be messy, difficult and frustrating. The historical canon of painting is problematic and exclusive. This seminar course will explore why so many writers, viewers and artists have a fraught and complicated relationship with painting. Through close study of historical and contemporary artworks and texts, students will investigate painting and its problems, with an emphasis on gender politics, ethics and aesthetics.
This seminar starts with the question: how are colour decisions made? Students will investigate historical and contemporary paintings and texts in considering the ways in which economics, iconography, culture and even climate influence an artist's use of colour.
Please visit the Academic Calendar for a description of all courses available during your undergraduate studies.
Fine Arts students experiment with both traditional techniques and unconventional methods and routinely show their work on and off campus.