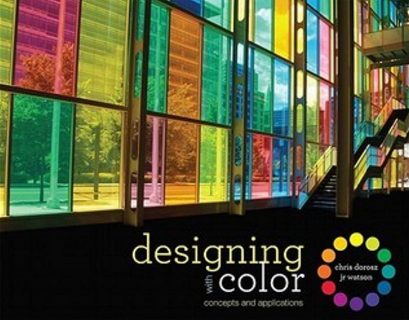 Chris Dorosz, MFA '97, along with colleague JR Watson, recently published a Foundation-level textbook entitled Designing with Color: Concepts and Applications.
Chris describes the textbook/workbook as "a new, more integrated approach to learning colour theory."
"What makes the book unique is that each concept has a different full colour example for nine applied and fine arts majors; this way, students can directly see the correlation of the theory to their majors as well as their majors to others. "
Also, each concept features four camera phone scavenger hunt-style assignments, where students are encouraged to engage with the world around them. A section after each chapter is provided for students to paste in these images, creating a type of workbook.
Each chapter includes examples from nine majors including Fashion, Interior Design and Architecture, Illustration, Graphic Design, Fine Art, Industrial Design, Photography, Advertising and Animation.
Designing with Color is published by Fairchild Books, a division of Condé Nast, NYC.
Chris Dorosz is a visual artist and professor teaching Color and Design at the Academy of Art University in San Francisco. An MFA graduate from NSCAD, he has also taught painting at the University of Manitoba and was the 2003 winner of the Royal Bank of Canada's New Painting Competition. His work is included in private and corporate collections including The Royal Bank of Canada and Lotto-Quebec, and in the contemporary painting anthology Carte Blanche 2.