NSCAD University is very pleased to welcome Director of Opportunity and Belonging DeRico Symonds as the first person in this important new role, effective October 5, 2020.
In this new position, which is reflected in the goals developed over the last year in the University's Academic Plan 2020-2025: Opportunity & Belonging, Symonds will work closely with NSCAD's students, senior leadership team, and Senate. He will play an institutional leadership role in advancing the academic priorities of the university by building and strengthening a culture of opportunity and belonging across all aspects of the community. He will also be responsible for designing and leading consultative processes to create and influence a culture of engagement across the University, and for leading NSCAD's engagement and partnership strategies, particularly with Mi'kmaq, Indigenous and African Nova Scotian communities.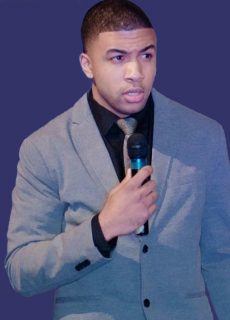 "I'm honoured to be joining NSCAD. The university plays an important role in the artistic, cultural and social fabric of the community, and I look forward to helping the university move forward with all of its priorities and goals," said Symonds. "My extensive work in the community over the course of my career has led me to work from a collective viewpoint, with a focus on collaboration and responding to the needs of youth in our society. I'm very excited about working with the dynamic students of NSCAD, and can't wait to learn their opinions on issues that are most important to them."
Symonds comes to NSCAD with several years of leadership experience with youth and communities, and is highly skilled in community engagement, outreach, and public policy. Most recently, he was the manager of the Youth Advocate Program with Halifax Regional Municipality, where he played an integral role in the Anti-Black Racism working group commissioned by the Chief Administrative Officer.
Symonds also played a lead role in the development of the municipality's Community Mobilization Teams with the Public Safety Office. Symonds currently serves on the Nova Scotia Criminal Justice Association board of directors, is a founding member of Arts, Community, Culture, Economics (ACCE HFX), and is a co-founder of Game Changers902. Symonds also previously served as the Black Student Support Coordinator at Mount Saint Vincent University.
Symonds has a Masters of Education Degree in Counselling from Acadia University, in addition to holding the Canadian Certified Counselor Designation from the Canadian Psychotherapy Association. He also has an undergraduate degree in Child and Youth Studies from Mount Saint Vincent University.
Among the numerous awards he's won throughout his career are the Dr. Burnley "Rocky" Jones Nova Scotia Human Rights Award, and the Irving and Ruth Pink Award for youth development and social justice.
"DeRico brings a wealth of skills to this new position at NSCAD. He is experienced at collaborating broadly and well respected for his ability to listen and build community," said Dr. Ann-Barbara Graff, Vice-President (Academic and Research), and Provost, NSCAD University. "He has already displayed outstanding leadership on issues of importance to our students, and is a proven community advocate. His experience working with diverse populations is also a tremendous asset to NSCAD."
NSCAD is one of Canada's oldest independent cultural institutions and offers graduate and undergraduate degrees in fine and media arts, craft, design, art history, art education and critical studies, as well as an array of Extended Studies courses. NSCAD alumni are among the world's most highly regarded artists, gallery directors, designers, curators and art educators.