Thank you donors and supporters!
You give NSCAD students the freedom to create.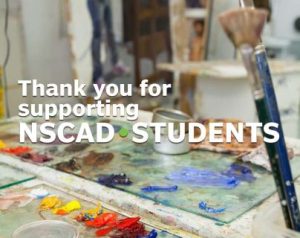 Your generosity and commitment to NSCAD will have a significant impact on NSCAD's talented emerging artists, creators, designers, builders, and makers.
Thanks to you, NSCAD students will be able to access the materials and equipment they need to advance their practice and education, giving them the freedom to experiment without fear. Financial limitations will not be a barrier to creativity.
NSCAD's donors make a difference by reducing uncertainty for talented students who lack the financial resources to fully explore and express their creativity.

$1,000 +
Michael Arno, William Barker and Elizabeth Church, Marco Chiarot, Ira Buhot-Perry, Leanne Dowe, Kara Holm and Thomas Curran, David Howard, Kim Knoll, Margie McCain Roy, Sarah McKinnon and Peter Dawes, Brian Oickle, Pam Perkins
$500 – $999

F R Anderson, Ian Beauprie, Jack Bishop, Mary Eaton, Louise Franklin, Terry Franklin, Bob Geraghty,  Frances Gregor, Paul Goodman, Joanne Hames, Hildur Jónasson, Katherine Knight, Susanne Wainwright MacLachlan, Jane and Grant Machum, Rob Shaw, Perry Tymeson, Louise Waters, Anonymous donor
$250 – $499

Steve Angel, Stephen Archibald, Pierre Charles Billon, Alexander Birchler, Don Burry, Carolyn Condé, Luc Courchesne, Elizabeth Currie, Neil Forrest & Sheila Provazza, Tanja Harrison, Teresa Hubbard, Alex Livingston, Mona Lynch, Rowland Marshall, Maggie Marwah, Elizabeth Mullaly and Darrel Pink, Tanya Murdoch, Lynne Rennie, Bill Ritchie, Karen L H Robinson '81, Bruce Sparks, Anonymous donor
$100 – $249

James Adderson, Aida Arnorld, Pauline Barber, Nancy Blanchard-MacDonald, David Bobier, Joy Borman, Susan Britton, Louise Anne Comeau, Alvin Comiter, Cath Constable, Léo-Paul Cyr, Keith Daniels, Lyndsey Darling, Leighton Davis, Bruce DeBaie, Martine Durier-Copp, Suzanne Gauthier, Martha Glenny, Leslie Gotfrit, Cynthia Guzner, Rebecca Hannon, Linda Hutchison, Bonita Kirby, John Lovas, Eve Llyndorah, M.E. Luka, Margot Mackay, Bruce MacKinnon, Glen MacKinnon, Maggie Marwah, Bryan Maycock, Paul McClure, John Merrithew, Jane Milton, Lara Minja, Wilfred Moore, Carol Morrison, David Mowbray, Jock Murray, Peter Nelson 1972, Valentyna Onisko, Diane Palmeter, Louise Pentz, Robert Porter, James Rae, Ann and Jim Read, Rhonda Rubinstein, Ruth Scheuing, Virginia Stephen, Deborah Stover, Jeff Somerville, Venessa Warne, Susan Willmott, Dave and Moira van de Wetering, Marthe Vary, Lorna Wallace, Peter Wünsch, Carl Youngbluth, Anonymous donor
Under $100

Carol Adderson, Gary Aitchison, Mary Banks, Christine Barbour, Wendy Cameron, John Carruthers, Leonard Cook, Jenny Costelo, Cindy Darling, Elise Doane, Nadia Dziubaniwsky, Scott Everingham, Amanda Farion & Shalon Perry, Joan Gallant, Angela Gillis, Leslie Gotfrit, Gale Hagblom, Susan Hannem, Di Harrison, Edith Hicks, Andrew Hunt, Dorothy Jackson, Duane Jones, Jolinne Kearns, Andrée Lachance, Matthew Lettington, Pat Lindley, Barbara Lounder, Clarke MacDonald, Reid MacMillan, Paulina MacNeil, Denise Cormier Mahoney, Guy Mallabone, Ramona Mazur, Carol Miller, Alison Molloy, Kate Monro, Filsan Omer, Chris Parsons, Vita Plume, Karen Ramsland, Lelland Reed, Rachel Reeve, Bernard Riordon, Margaret Sylvester, Calvin Taplay, John Washbush, Laura White, Eliot & Liz Wright, Anonymous donor
NSCAD University values all gifts and makes every effort to maintain accurate records. Please contact give@nscad.ca  if correction is required for subsequent donor recognition.
Thank you to our donors for annual gifts received between October 1, 2021 and December 31, 2021.