For NSCAD alumna Mengnan Qu (BFA 2012), it took distance and time for her to come to grips with China's one-child policy.
Mengnan, like her husband Yu Xia (BFA 2013), is an only child. But what seemed normal in China seems strange and sad to her now. As an artist, she is exploring the policy and its impact on Chinese people of her age through the "Calabash Series," a series of enameled vessels in the shape of calabash. She is continuing work on the series for the upcoming Talente exhibition in Munich, Germany—a prestigious showcase for young artists under the age of 33 working in the applied arts.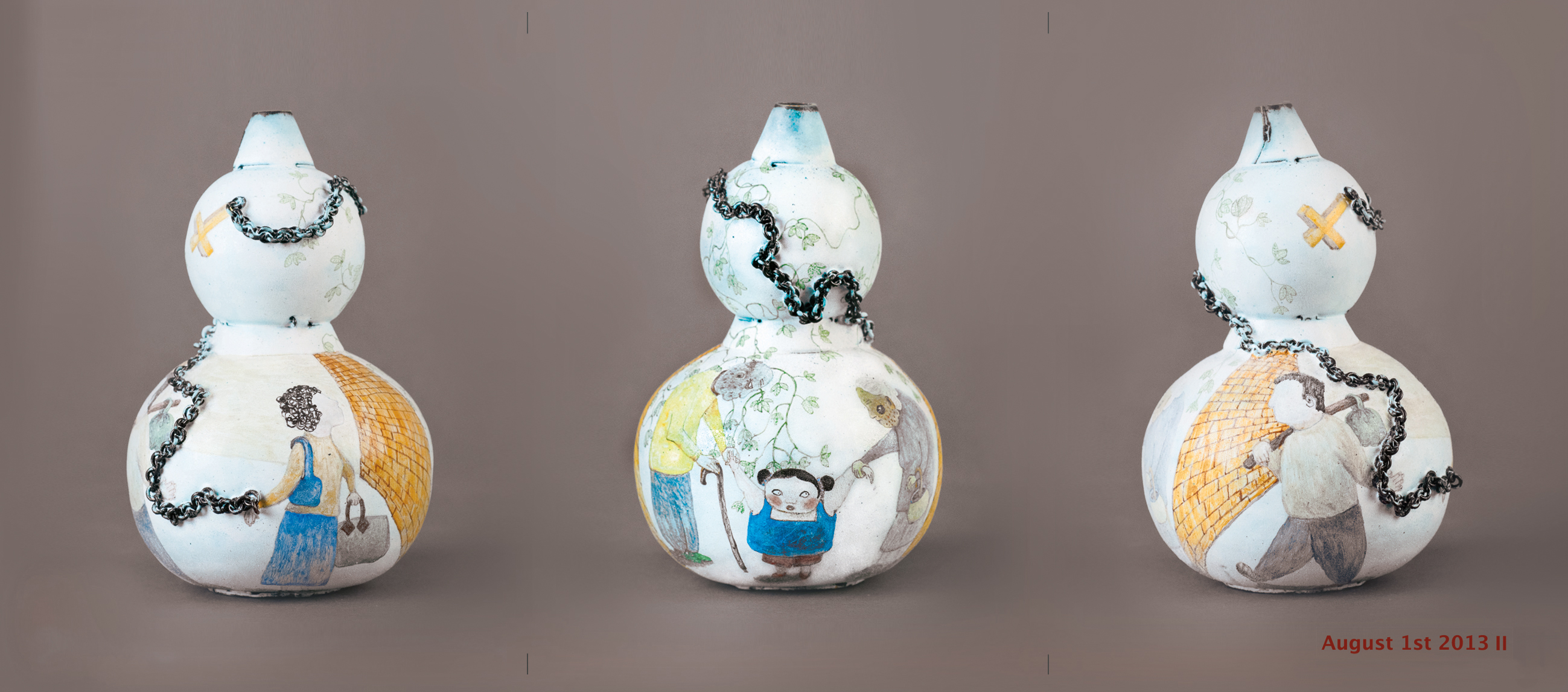 The calabash, she explains, is an hourglass-shaped gourd filled with many seeds. In Chinese tradition, the calabash was once given to newly married couples as a symbol of fertility and prosperity—but no more. Mengnan uses the shape as her storytelling medium—except that the hulls are devoid of seeds and the stories devastating, violent and shocking. On one, a small girl stabs her mother's pregnant belly, the blood flowing like a stream. On another, a child falls from an upper window, with no sibling or adult around to watch out for them.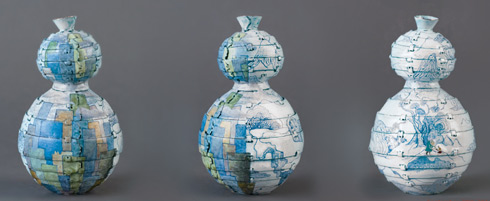 "I wanted to bring out the hidden stories of the one-child policy," explains Mengnan, who together with Yu Xia runs Yu Yo Craft Supply + Tea House in Halifax. "In China, boys are more important than girls and a lot of baby girls were killed or abandoned …
"When you're in the situation, you don't realize it's different. But when you're on the outside, you can see better—I think something is wrong here."
Says Yu: "We come from a society out of balance."
They are part of a cohort of only children in China who grew up with the strict family planning policy, introduced in 1979 and phased out in 2015. That means for them, only children of aging parents, they are solely responsible for their parents' and grandparents' support and wellbeing. For their parents, it means all their hopes and dreams reside in them alone. "It's a lot of pressure," says Yu.
Married in 2013, the couple, who met in high school in Beijing, came to Halifax to study at NSCAD University—Mengnan in Jewellery and Metalsmithing and Yu in Sculpture. Following their BFAs, they went to do their master's degrees in New York City, where Mengnan went to study with "enamel god" Jamie Bennett at New York State University and Yu at the Academy of Art.
After New York, they were eager to return to Halifax. "We want a quiet life so that we are able to do work and enjoy life," says Mengnan, a four-time Niche finalist in the professional categories and a Niche Student Award winner in 2012.
They also saw an opportunity in Halifax: to start an art supply business specializing in jewellery and metalsmithing supplies. Yu Yo Craft Supply + Tea House began online five years ago. Last year, they opened a bricks-and-mortar shop in Halifax's Brewery Market, and added a tea room. They've expanded their stock to include pottery supplies, natural dyes, and modelling supplies for architects. They also hold a variety of workshops, for example Chinese Calligraphy, Chinese ShuiMo Painting, and Stamp Making. On January 27, they'll hold a Chinese New Year celebration.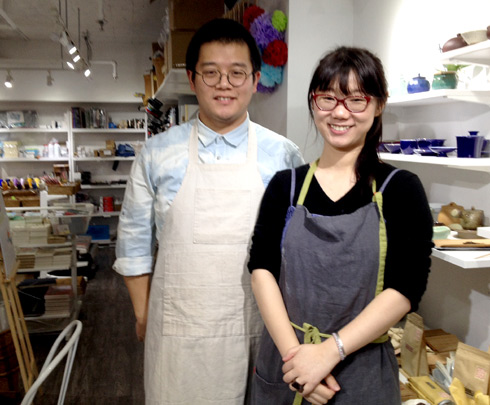 "I think what we learned at NSCAD is that you use your hands. You do everything," says Yu.
"The undergraduate programs are at a very high level. The professors have a lot of time for students and you learn a lot from classmates too," says Mengnan. "With the shop, we wanted to support that learning."