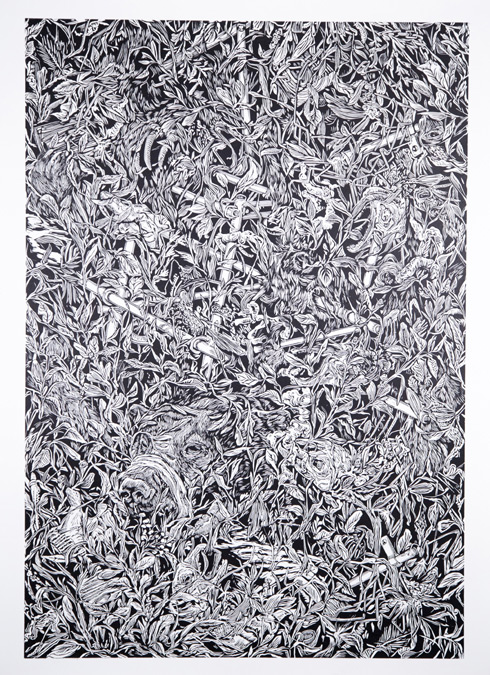 NSCAD student Sydney McKenna is the winner of the 2016 Starfish Student Art Awards.
Representing the printmaking category, the 22-year-old NSCAD student from Kamloops, BC was recognized for her relief print entitled Play. Printed in black ink from a hand-carved matrix, the work is dense, complicated, and ambitious.
Members of the jury were drawn in by the work, calling it "neo-romantic" and "radiating," intrigued by its "seeming pattern," which on closer inspection is not a pattern at all, but serves to lure in the viewer ever closer to discover buried imagery—a bear, a salmon, a glove, a jungle gym frame.
"It's so heavy and dense, you could write a book about it," said Sarah Fillmore, chief curator at the Art Gallery of Nova Scotia. "It's exciting – revisiting the heyday of print with a new visual language."
Serving on the jury with Fillmore were Andrea Dorfman, a filmmaker, animator, and cinematographer; Briony Carros, executive director of Visual Arts Nova Scotia; and Linda Hutchison, of University Relations at NSCAD. The jury also noted the scale and ambition of the work and admired the technical prowess of the artist.
Too overwhelmed to speak after her name was called,  McKenna said in an earlier conversation that the work plays with notions of decay, abandonment, and childhood fears of death. "Things that once had a purpose are changing and becoming something else, and in some cases, going back to the earth."
About to graduate from NSCAD University, McKenna said her experience at NSCAD has been challenging and fulfilling, allowing her to gain confidence in herself as an artist. "I've met so many amazing people who come to NSCAD from so many different places," she said. "From my professors and classmates, I've learned more than techniques—through art school I've been able to develop and figure out who I am through art. It was the best decision to come all the way out here (from British Columbia)."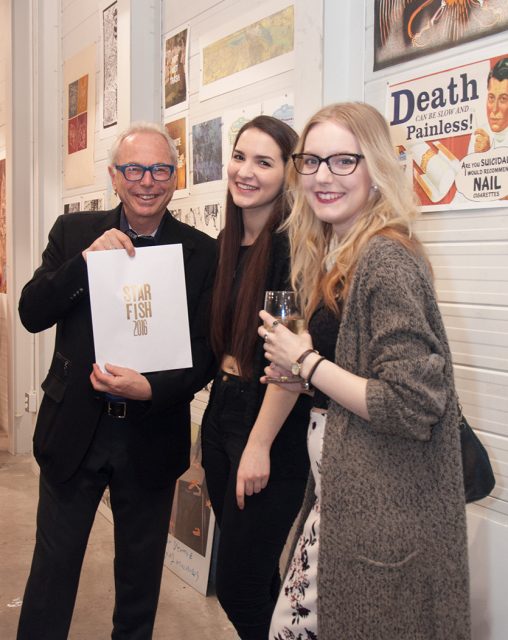 McKenna receives the $5,000 purchase price for the artwork, which now becomes of NSCAD University's permanent collection. Each of the finalists— Laura Admussen, Kate Grey, Jordan Baraniecki, Nathalie Maiello, Philip Nuttall, Maeghan Banks, Katarina Marinic, Yalitsa Riden and Marc Knowles—receive a $1,000 cash prize. The printmaking department also receives $1,000.
This is the seventh year for the Starfish Student Art Awards, named for presenting sponsor Starfish Properties and supported by a record number of corporate sponsors. NSCAD University is grateful for the support of property developer Louis Reznick, who initiated the awards to celebrate top talent across 10 visual arts disciplines at the university.
Special features of the gala include a "walking jewellery exhibition," performance "sandwich" art by Anna Sprague and Emily Lawrence, a print show and sale, and music by DJs Jam Peacock and Brews Barber.
NSCAD University would like to thank all the sponsors for this year's Starfish Awards: Starfish Properties, OMEGA Formworks, Scotiabank, Stewart McKelvey, TD Insurance Meloche Monnex, The Prince George Hotel, The Coast, Compass Realty, CKG Elevator, Dexter Construction, Easco Electric, Eastlink, Ellis Don, Floors Plus, Gordon Stirrett Wealth Management, Grant Thornton, Lydon Lynch Architects, Lindsay Construction, M&M Sheet Metal, Office Interiors, Precision Concrete Services, Rogers, Windmill U-Store, and XL Electric Ltd.,
NSCAD also expresses appreciation for our supporters: Blue Ocean, FRED, Clearview Integrated Window Systems, Garrison Brewing, Greenwood Lane, High Gloss Maintenance, House of Moda, The Shaw Group, WBLI Chartered Accountants, and Windows Plus.