NSCAD University has announced the 10 artists who have been shortlisted for its Student Art Awards. Formerly known as the Starfish Student Art Awards, the 2020 NSCAD Student Art Awards recognize and promote exceptional work completed by our students.
"I want to congratulate all of the nominees for the Student Art Awards. Their work is exceptional and inspiring," said Dr. Ann-Barbara Graff, Vice-President (Academic and Research), NSCAD University. "During these trying times, art can help lift us up, bring us together and give us something to look forward to. These 10 artists from NSCAD deserve credit for inspiring us, during a time when we need it most."
The winning artist will be awarded the $5,000 purchase prize for their artwork, which then becomes part of NSCAD University's permanent collection. The remaining nine finalists will each receive $1,000.
Each of the 10 nominated works represent a different visual art discipline. The 2020 finalists, their artworks and the categories in which they are nominated are:
Sorrel Van Allen
Nominated work: Lamina, 2019  (Jewellery and Metalsmithing)
Sarah McKinnell
BYO, 2019  (Textiles and Fashion)
Undine Foulds
Serving Vessels, 2019  (Ceramics)
Celine Morton
Are you Home, 2020  (Drawing)
Kayza DeGraff-Ford
In the Bathroom, 2020  (Painting)
Ada Denil
Vascular System-Port Campus, 2019  (Sculpture)
Maddi Schachtel
Home Bodies (series), 2019  (Printmaking)
Sage Sidley
Scan2Connect, 2020  (Expanded Media)
Aislinn Duguid
Insaneclownpussy, 2020  (Photography)
Devon Pennick-Reilly
Surface Tension, 2019  (Film)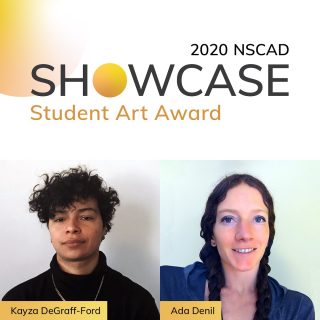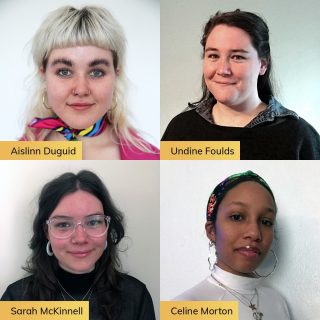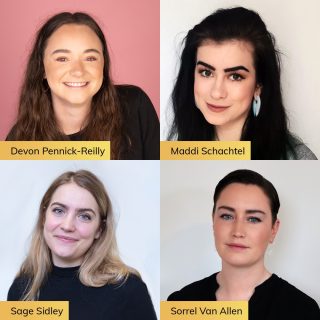 The entire process, from nominations to the naming of the grand prize winner, is designed to provide emerging artists with visibility as they embark on their careers.
NSCAD will announce this year's grand prize winner in the fall of 2020.  Please join us in congratulating the finalists.