NSCAD will recognize former NSCAD president and conceptual artist Garry Neill Kennedy and literary theorist and critic Terry Eagleton with honorary degrees at the 2011 Graduation and Commencement Ceremony.
The event, scheduled for 2 p.m., Saturday, May 14 at the Cunard Centre will mark the graduation and commencement of 244 students.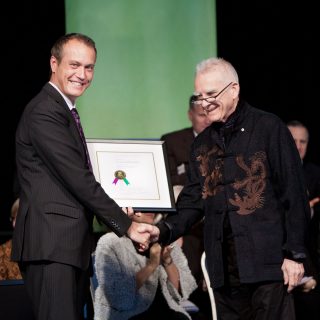 Garry Neill Kennedy is a senior Canadian artist who lives in Halifax. In addition to an active career as an artist, he has taught studio art at the Nova Scotia College of Art and Design (NSCAD University) for more than forty years where he also served as president for 23 years (1967 – 1990). He was also visiting professor at the California Institute of the Arts (Cal Arts) and Ecole des Beaux Arts, Paris (ensba). Kennedy's most recent solo museum exhibitions were held at the National Gallery of Canada; the Art Gallery of Nova Scotia; Portikus (#86), Frankfurt am Main, and the Owens Art Gallery in Sackville, N.B.
Kennedy received the Order of Canada in 2003 and the Governor General's Award in the Visual Arts in 2004. In addition to his art practice, Kennedy is editing a book for MIT Press: The Last Art College: Nova Scotia College of Art and Design, 1968 to 1978 that covers his first ten years as President of NSCAD. He is also completing a catalogue raisonné of his printed matter with the National Gallery of Canada.
Formerly Thomas Warton Professor of English Literature at the University of Oxford, Terry Eagleton is currently Honorary Visiting Professor at the universities of Lancaster and Notre Dame and at the National University of Ireland (Galway). Fellow of the British Academy and Honorary Fellow of Jesus College, Cambridge, Eagleton is the author of some forty books of literary, cultural and political criticism, as well as of a novel, a screenplay and several stage plays produced in London and Ireland.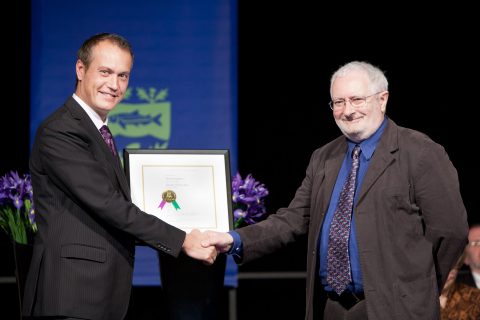 "We are delighted to recognize the achievements of these two remarkable individuals," says President David B. Smith. "As scholar and public intellectual of immense stature, Terry Eagleton's contributions as both a theorist and creative writer underscore the value of what we do here at NSCAD: develop outstanding critical and creative thinkers."
"Under Garry Neill Kennedy's visionary leadership and passionate commitment to contemporary culture, NSCAD evolved from a regional art school into one of North America's leading visual arts universities," adds Smith. "Today's NSCAD is very much Garry's legacy, and we proudly honour him."
Kennedy and Eagleton will each be conferred with a Doctor of Fine Arts (honoris causa) degree.
Audio, installation and performance artist Rita McKeough, MFA '79, will deliver this year's Commencement Address. McKeough has exhibited extensively in Canada and internationally for 28 years. Throughout her career, McKeough has maintained a commitment to artist-run centres, community-based art and music-based initiatives. Winner of a 2010 Governor General's Award in Visual and Media Arts, Rita McKeough currently teaches at the Alberta College of Art and Design in Calgary.
The Governor General's Silver Academic Medal for highest academic standing will be awarded to Vanessa Malicki-Sanchez, BFA '10, while Brady MacKinnon, BFA '11 is this year's valedictorian.