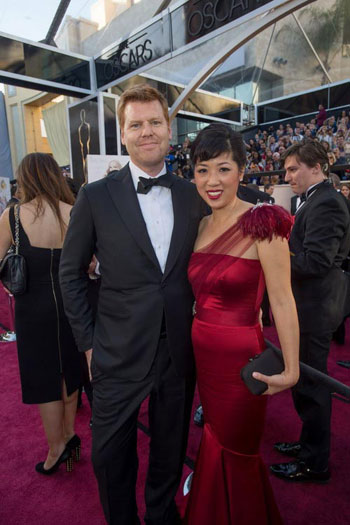 NSCAD graduate John Kahrs did his alma mater proud on Sunday night when he picked up an Oscar for his animated short, Paperman.
The Disney animator clutched the gold statuette as he thanked his team of animators at Disney, his wife Gennie and two sons Ben and Johnny. His magical little film is about love at first sight between two commuters in the big city.
"It just shows you how far a NSCAD education can take you—right to the stage of the Academy Awards before an audience of millions," said Dr. Dan O'Brien, acting president of NSCAD University. "John Kahrs' experience at NSCAD pre-dates our film program, and yet his experience is typical of what our students find here; they embark on a journey of discovery and learn how to express themselves visually."
David Clark, chair of NSCAD's Media Arts Department, says NSCAD encourages exploration and risk-taking with an interdisciplinary approach that begins in Foundation year. "You can play and let loose. It's a creative free-for-all where students can discover their voice." Animation classes at the school bring together artists of all types, from film majors to ceramicists and illustrators interested in the moving image.
Paperman's success can be attributed to its old-fashioned approach—it's animation that respects the hand of the artist. The artists working on the seven-minute film developed new technology which combines computer-generated art with hand-drawn but paperless 2D animation—the drawings were made on digital tablets.
From the Hudson Valley in New York state, John did a year at the Pratt Institute in Brooklyn and then transferred to NSCAD. He graduated with a Bachelor of Fine Arts Degree in 1990.
In an interview last month, John spoke about how he was able to experiment and try different things at NSCAD before focusing on animation. The turning point was seeing the early Pixar film Luxo Jr. at Wormwood's Cinema.
"What I loved the most is that you could jump around from the dark room to the easel to the metal shop to the computer lab … I was a painting major but I really was a jack of all trades."
While attending NSCAD, he put together a demo reel which helped him snag his a job at Blue Sky Studios in New York immediately after graduation. He then went to Pixar, where he worked on every Pixar feature in recent years, from A Bug's Life to Ratatouille. After Pixar, he moved to Disney and worked as a supervising animator on Tangled before getting the green light to pursue his idea for an animated short inspired by his days at Blue Sky, feeling lonely and overwhelmed in a city of millions.
"You'd make eye contact with someone and in that moment you imagine a life together," he explained. "And then, the eyes break and they're gone forever. In the big city, everyone is looking for a connection, for meaning and love. How would the fates conspire to bring two people together?"
NSCAD has some other Oscar connections. Michael Donovan, past chair and a member of the NSCAD Board of Governors, won an Academy Award in 2003 as the producer of the Michael Moore-directed  documentary, Bowling for Columbine.
And, in 1957, one of the big winners at the Oscars was the musical The King and I starring Deborah Kerr and Yul Brynner. Set in the 1860s, the movie is inspired by NSCAD founder Anna Leonowens and her time in Siam (now Thailand) as the governess to the king's children. Nominated in nine categories, the beloved musical won awards for best actor (Yul Brynner), best art direction, best costume design, best musical score and best sound recording.