Sydney Smith can trace his success as a children's book illustrator to one inspiring moment.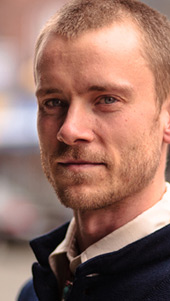 Then a NSCAD student, now a 2015 Governor General Award Winner for Children's Literature, Sydney was passing through the student lounge in NSCAD's Fountain Campus when he ran into Dan O'Neill, his professor for Intro Lithography.  Dan was holding a pamphlet which he passed to Sydney, with the remark, "This could be you one day."
The pamphlet was a list of nominated illustrated books for the Governor General's Award for Literature.
"He just kind of handed it to me … and I thought, 'OK, that's ridiculous but you never know,'" says Sydney, on the phone from Toronto where he moved two years ago.
Since graduating from NSCAD in 2006, Sydney has illustrated a number of children's books, including the re-issues of Sheree Fitch's Toes in My Nose, There Were Monkeys in My Kitchen and Mabel Murple. Then came an inquiry out of the blue from Sheila Barry, publisher of Groundwood Books, asking him if he'd be interested in a book she had in mind for him. The job coincided with Sydney's move to Toronto, where his wife Maggie MacNevin is doing her master's degree.
"A move to a new city was a chance to start fresh," says Sydney. "I could see what it meant and I really pushed myself."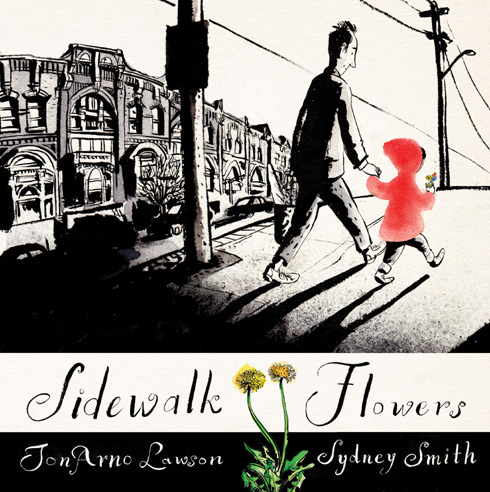 The exquisite Sidewalk Flowers (Groundwood Books/House of Anansi) has no words. Although "written" by JonArno Lawson, it was up to Sydney to tell the story, that of a young girl who sees beauty where no one else does. While walking through the city with her father, she picks flowers that grow between the sidewalk cracks. Sydney's illustrations are loosely rendered in ink and watercolour, reminiscent of urban photography and New Yorker cartoons. At first, the girl's red hooded coat provides the only spot of colour, but by the end, colour is everywhere.
"It's about mindfulness, about being aware of the small hidden things we would normally walk by, and kindness and generosity," says Sydney. "As she walks through the city, she brings out its colour."
It helped immensely that Sydney was a newcomer to Toronto. "It felt huge and overwhelming and that's what went into this book. I was looking at everything: the buildings, the shadows, the streetcars, the weird wires everywhere. These are things that you don't see after awhile, but I did see them and was amazed. I'm the little girl in the big city."
Not only did Sidewalk Flowers win him and author JonArno Lawson the Governor General's Award for Children's Literature (Illustrated Books), it was also named by The New York Times to its list of the best illustrated books of 2015, selected for the Publishers Weekly Best Books of the Year 2015 and awarded Belgium's Prix Libbylit for best picture book. Perhaps even more exciting is that a copy of Sidewalk Flowers will be distributed to every Syrian refugee family coming to Canada through IBBY Canada (International Board on Books for Young People).
"What might have been a trite, sentimental tale about the power of giving is instead something to treasure," wrote Carmela Ciuraru, the reviewer for The New York Times. "I'd give this book to anyone with a coffee table, in a household with or without children."
Sidewalk Flowers is not the only book gathering honors and accolades. Music is for Everyone, published by Nimbus Publishing and written by Jill Barber, won the Lillian Shepherd Award for Excellence in Illustration earlier this year.
Now Sydney is busier than ever. He's working on additional titles for Groundwood, and a mural project he did for St. Joseph's Children's Hospital in Toronto is about to come to fruition.
He thinks back on that encounter with Dan O'Neill in the NSCAD student lounge and what it meant: "That kind of support makes such a difference and means a great deal. It says: 'I think you're good enough this' and it shaped my direction."