NSCAD University is pleased to announce a new contingent of NSCAD alumni who have accepted to the NSCAD Community Studio Residency program.
Entering its 12th year, this dynamic program created for emerging artists has sites in four Nova Scotian locations: Lunenburg, Dartmouth, New Glasgow and Sydney, Cape Breton. The program gives recent NSCAD alumni access to fully outfitted studios as a way of beginning a studio practice.
In exchange, residents volunteer for the host organization and become involved in community life. For example, residents organize lectures by visiting artists, hold workshops for adults and youth, and work collaboratively with local schools. They also organize exhibitions of their work in their host communities and at NSCAD's Anna Leonowens Gallery.
NSCAD is grateful for the support from TD Bank for its community studio residency programs and outreach initiatives.
Lunenburg
The university's first partnership was forged with the Town of Lunenburg in 2006. Since its establishment, many of the NSCAD alumni who moved to Lunenburg through the program continue to live and work in the area. Each year, three NSCAD alumni share the large, light-filled studio in the triple bays of Lunenburg's former fire hall.
In September, as residents Selina Latour, Deniree Isabel and Norma Jean MacLean pack up, Merle Harley, Helah Cooper and Gillian Maradyn-Jowsey will be moving in. Merle Harley (BFA 2014) is an interdisciplinary artist who creates knitted and woven clothing, makes books and videos, and builds structures. From Toronto, Helah Cooper (BFA 2017) has an interdisciplinary art practice that incorporates textiles, sculpture, installation, collaboration and drawing. Gillian Maradyn-Jowsey is an interdisciplinary maker, designer, and collaborator graduating in 2017 with a BFA in Ceramics. Originally from Aylmer, Québec, Gillian is thrilled to be working at the Lunenburg residency in the fall.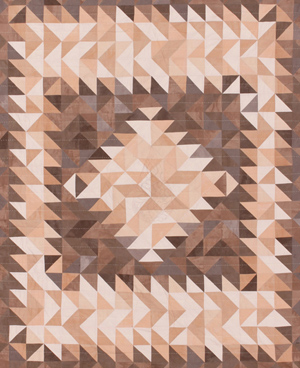 Sydney
Two newly minted  NSCAD alumni will be bound for Sydney, Cape Breton this fall:  interdisciplinary artist Tamsin Sloots (BFA 2017), who will be focusing on quilting and printmaking, and her partner Trevor Novak (BFA 2017), a ceramic artist. The residency takes place at the Cape Breton Centre for Craft and Design, 322 Charlotte Street, Sydney.
Dartmouth
NSCAD's partner in Dartmouth is the MacPhee Centre for Creative Learning, a community hub which offers programming in the visual arts, music, video, creative writing and technology for youth between the ages of 12 to 19. Current residents are Jessica Lynn Wiebe (BFA 2015), Cinthia Auz Arias (BFA 2016) from Ecuador and Luis Figueroa (BFA 2016) from Venezuela; they share a studio on the third floor of the bustling teen centre in downtown Dartmouth.
Incoming residents are Jenny Yujia Shi (BFA, BA 2015), a painter and printmaker originally from Beijing, China, and Emily Lawrence, an interdisciplinary artist and designer. Jenny will continue her exploration of issues including human migration and border crossings through the visual symbolism of passports, visas and entry stamps. Emily, whose work is usually delivered with a dash of humor and often involves food, plans to create a scratch-and-sniff food photography printed matter series and a video web series.
New Glasgow
Headed for the Town of New Glasgow in September is Curtis Botham (BFA 2017), an artist who works mainly in photography and drawing. With support from the Elizabeth Greenshield Foundation and Nova Scotia Talent Trust, he plans to use New Glasgow as a base for an artistic exploration of Nova Scotia's history of resource extraction, its effect on nearby communities, and mines, both abandoned and active.
He'll share a studio space in the New Glasgow Library with Géneviève Brideau (BFA 2017), an interdisciplinary artist from Montreal with a focus on sculpture, illustration and performance art.