NSCAD Artist in Residence 2012 Rick Leong, is interested in in-between states like dusk and dawn, times of day which straddle both day and night, wakefulness and sleep, light and dark.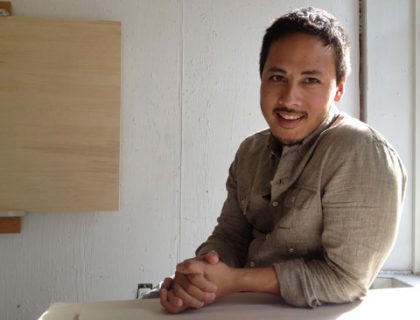 During his residency of two months, he further explored that theme of transition in preparing for an exhibition at the Anna Leonowens Gallery, November 13 to 24, 2012.  He's expanding on a body of work that looks at the "sublimation of self" – that moment of in-between when inner feelings (desire, fear, memory) are redirected and converted into something entirely new. He gives the example of the monk, whose suppressed feelings of desire are channeled into champagne making.
Or the artist, you might say, who re-imagines complex psychological concepts as landscape paintings.
A third generation Chinese-Canadian, Rick Leong obtained his BFA for the University of Victoria in 2004 and MFA from Concordia University in 2007. In 2008, he was a finalist in the Royal Bank of Canada's Painting Competition that toured at important venues such as The National Gallery of Canada, the Power Plant, Toronto and the Contemporary Art Gallery, Vancouver. Leong's work is collected widely across Canada, including in the corporate collections of Senvest, Col'Art, the ALDO Group, and the Canada Council Art Bank.
During his time at NSCAD, Rick was ensconced in a fourth-floor painting studio on the Granville campus. While he was here, he was always "happy to talk about my work and what I'm doing."
He was the first artist brought to NSCAD through the William and Isabel Pope Artist's Residency in Painting . The program offers artists a $8,000 honorarium for a two-month residency during a fall or winter term and accompanied by an exhibition. The residency is generously supported by the Robert Pope Foundation, which also funds a number of student scholarships and bursaries at NSCAD. The Pope Residency is open for applications until February 15th, 2012.
Named for the parents of Robert Pope, the residency has been created on the 20th anniversary of the late artist's death. An exhibition, Metamorphosis: The Art of Robert Pope opened at the Art Gallery of Nova Scotia. Described as "powerful and deeply moving," the exhibition was well received at it's opening in 2012.
Robert Pope, who graduated from NSCAD in 1981, died of cancer in 1992 at the age of 35. A social realist painter, he left an extraordinary series of artworks dealing with the experience of undergoing cancer treatments, the emotional and psychological effects of his illness and his desire to speak both specifically and universally about death and dying at the AGNS.