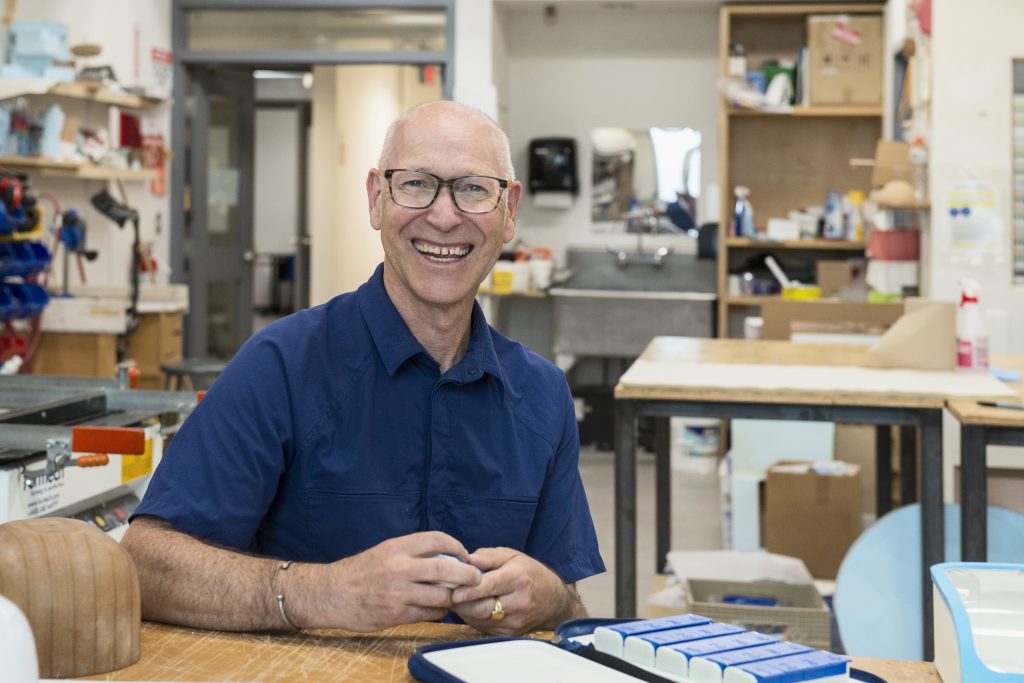 Glen Hougan is an industrial, product, and service designer with a focus on developing new products for an aging population. He is a proponent of user experience and integrative design and an advocate for design thinking in health care. His research focuses on designing for dignity and addressing ageism in design. He is currently an Associate Professor in Design at NSCAD University and holds Master of Environmental Design from the University of Calgary.
In 2010, Glen was named the Sun Life Financial Chair in Design in Health and Aging, and in 2012, he was awarded a Research Fellowship in Healthcare Innovations from the Center for Innovation (CFI), at the Mayo Clinic in Rochester, Minnesota. His research and work around design for an aging population have received extensive media coverage and has been featured in the New York Times, Wall Street Journal, and the PBS series Life Part 2.
Glen says that many current products for an aging population can reinforce negative ageist stereotypes.  Glen's takes a human centered approach to address this ageist narrative and he focuses on designing around dignity issues and the ability of the person and not their disability. When developing products, Glen interviews and observes how people interact with products in their existing spaces and environment. He then designs products based on insights from those observations focusing on product fit and usability. Students in Glen's design classes are also given opportunities to develop their skills and gain experience in this human centered approach to design. Over the years his classes have focused on designing for an ageing population and have developed wearable suits to simulate ageing, developed intergenerational spaces to increase generational interaction, and designed products to address Alzheimer issues.
Through his research in design for an ageing population, Glen discovered that many older adults are creatively 'hacking' and adapting everyday products to better meet their needs and make their lives easier. As part of a fellowship at the Center for Innovation at the Mayo Clinic, Glen documented and categorized over 300 these types of product 'hacks' and adaptations.  His ongoing research and work into these senior centered adaptations have highlighted the need for more products and services to be developed in collaboration with seniors.
Glen's work in integrated design has resulted in collaborations between design, business, and engineering.  As a co-lead of the Innovative Design and Entrepreneurship Academy (IDEA), Glen ran a 6 week summer product development bootcamps where students from NSCAD University's Design Division and Dalhousie University's Faculty of Engineering and the Rowe School of Business students collaborated on new products. As the current Industrial Designer-in-Residence in the Dalhousie IDEAHub, Glen shares his experiences and knowledge for early-stage modelling, prototyping, and user centered design strategies and techniques with startups in the Hub.  Glen is currently consulting on a project with Dr. Clifton Johnston in the Department of Mechanical Engineering at Dalhousie University and a company on a self-recovery lift assist. The aim of the project is to design an affordable, in-home portable assistive device to allow seniors or those with mobility limitations to recover from falls themselves.