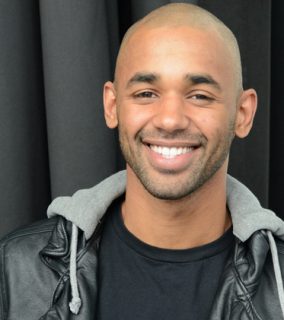 Life has turned hectic for director and actor Jarrett Shaw.
Since graduating from NSCAD's film program in the spring of 2014 he's worked as a production assistant on The Book of Negroes, Big Driver, and Lizzie Borden and acted in the sci-fi series Haven and the independent feature film Noon Gun.
With a plan to move to Toronto in April to pursue acting full time, there's one thing he's got to do first: direct one of four episodes of the miniseries Studio Black! for CBC-TV.
Production begins this month on the project which lines up three Nova Scotian directors to tell stories from the province's black communities based on short stories by Arthur Fauset.
Producers Bill MacGillivray and Terry Greenlaw of the Lunenburg-based Picture Plant were impressed by Jarett's NSCAD thesis film Carry the Cross, and thought he'd be a good fit for the project. Set in the 1960s, Carry the Cross (2013) deals with issues including racism and mental illness.
"I'm setting my sights on acting, but I thought this was an important project," says Jarrett. "I'm always up for doing something like this because I like to shed light on certain stories that are hidden, swept under the rug."
Jarrett described the process of preparing for the project as "stressful," but says his time at NSCAD gave him a strong foundation for dealing with similar situations.
"My education allowed me to realize that I'm capable of doing something like this […] because if I can do it without professional workers, like NSCAD is doing with students who are trying to be professionals, then I can definitely do it with professionals."
Being a better director will help him become a better actor too, says Jarrett. Just look at Ben Affleck, he adds, and compare his work in last summer's Gone Girl versus Good Will Hunting (1997). The key is to take advantage of opportunities, work hard and continue to learn.
"To get that first job on The Book of Negroes, was after I graduated (but) it wasn't because I had a NSCAD film degree, it was because I went out and got it and then my work ethic on that show got me my next job," he says.
"It's important to have that degree because you learn things in school but when you get out in the real world, your work ethic means the most."