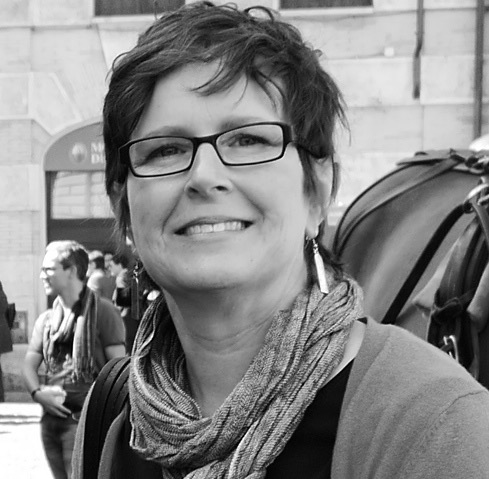 Selecting the right post-secondary school can be a difficult decision, one that has to take many factors into account: the learning environment, the faculty and students, and what the student plans to do afterwards, to name a few.
For Anna Whalen (BFA 1987), entering her third round of post-secondary education, the choice was simple: she came home.
A graduate of NSCAD's former Arts Education program, Whalen describes her education as one where she learned not only to be a teacher but also a maker, with instructors like David York, Cynthia Taylor, and Nick Webb introducing ways to understand how learning occurs through art making itself. "There's a passionate group of graduates who went through the NSCAD art education program," says Whalen. "It was so meaningful and had such an impact in schools [when we ourselves became teachers]."
Now an art teacher at Charles P. Allen High School, Whalen says that this approach has stuck with her. In her words: "I always imagine what Nick would say if he came into my classroom. Hopefully you never get so far away from the making that you forget what it's like to be a student."
Over the past several years Whalen returned to NSCAD to earn her Visual Arts certificate, which she completed in 2014. While much had changed at the school since her studies in the 1980s, in the innovative "Keji Project" class taught by Anna Sprague, Whalen's final class before finishing her certificate, she observed the same NSCAD spirit she remembered.
"Her class was like what I experienced in my education degree, and what I hoped to experience when I came back," says Whalen.
She tells me that Sprague reminded her of her former instructors in her honest excitement, her energy and straightforwardness, and the unique and engaging environment (a camping trip to Kejimkujik National Park) that she provided for art making.
For her piece in the Keji class Whalen collaborated with a number of students in the course, creating portraits by "weaving" their stories of survival (the theme of the course that year) into a single head covering by knotting rope, a technique she learned from a knot-tying book given to her by her late father. This head covering was then worn by students and photographed by Ali-Giffen Johnson in an environment that was meant to exemplify the story – which all the while remained a secret shared only between the survivor and the artist.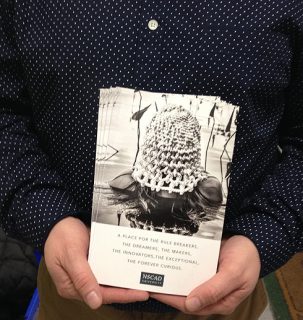 Whalen is celebrated for her innovations as an arts educator. She is the recipient of several prestigious awards, including the Prime Minister's Award for Teaching Excellence and the FitzHenry-Whiteside Award for innovation in education. Through collaboration and tireless grant writing Whalen has been instrumental in bringing resources into her school, spearheading community projects with students, providing students with opportunities to experience contemporary art, and inviting speakers into the classroom.
One such speaker was Ruby Boutilier, artist and NSCAD recruitment officer. Speaking to CPA students Boutilier told them: "Don't stress about it, if you're in grade 12 and you're not sure if you're going to art school next year – if art is part of who you are, then you're going. And it might not be this year. It might be in five years. It might be in 10 years. Don't sweat it. We'll see you when we see you."
Elaborating on what she heard in Ruby's words – having returned to NSCAD after 25 years   – Whalen smiles, and says: "If we're your people, then you'll come home."