Cassie Seaboyer (BFA 2017) is a Halifax-based costume designer, special effects artist, and sculptor. From felt elf puppets to hyper-realistic silicone feet, Cassie's whimsical prop design and special effects have brought theatre stages and film sets accross the province to life! We had the wonderful opportunity of visiting Cassie at Neptune Theatre, to check out some of the magical work she has created for their current production of Elf: The Musical!
How did you get into costuming and prop design?
"I have been into costuming, props, and prosthetics my whole life.  As a kid, I loved watching movies like Jurassic Park and Star Wars — it was always all about the puppets and practical effects for me. I grew up in a small town called Shelburne, and I was definitely always the one artsy kid growing up. I never thought a career in this sort of field was attainable — being from a small town, you don't see many people grow up to be practical effects artists. But my parents were always very encouraging of me being the art kid. They nurtured my creativity a lot. After high school, my plan was to go to NSCAD to become a tattoo artist. Once I started taking classes at NSCAD, I realized I didn't like working in 2D so much; it was only when I started taking courses where I was working with clay that I realized I loved working in 3D so much more. I remember Becka Barker's animation class really amazed me. I'm not great with technology, but she would let me sculpt my models for my stop motion animation projects. That class also really sparked my love of film work. I am really thankful that the professors I got to work with at NSCAD were willing to tweak their courses a bit to suit my specific creativity, and encourage my interest in this stuff. In my illustration class, instead of drawing a character, I was able to sculpt a character. It was really great that the school was willing to bend those rules for me and make space for my practical approach to making. Towards the end of my time at NSCAD, I did an apprenticeship to study makeup, so that got me more into that side of the industry."
How did you end up at Neptune Theatre?
"Before I got the job here at Neptune, I did an independent study with a professor named Jeff Domm. I told him I was interested in building a puppet for Halcon; he was immediately like "great, let's nurture this." I built this large cable mechanism puppet, entered a costume contest, and I won my category. One of the prizes was to do a wardrobe tour here at Neptune. I came with the rest of the winners, and I met Helena, who is head of wardrobe here. She told us "if you want to learn more, reach out to me. I'll teach you how to build your next costume." I was the only one of that group to reach out to her. So I built that relationship with her, and she helped me make a costume. With my foot in the door, I was able to get a job here as a bartender, to make some extra money while I finished up school. Neptune really recognized my talent and interest, and brought me on to work behind the scenes as a prop designer.  I recently worked on the production of Misery, where I made this full casting of someone's leg in silicon. It was cool to get to use a technique I learned in the sculpture classes at NSCAD."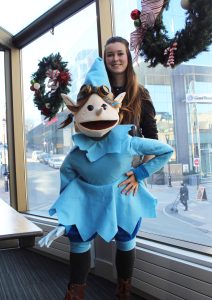 Tell us about the process for creating work for a show like Elf.
"I am working alongside the lead designer, who has come up with the creative vision for the show. The head of each department is responsible for bringing that vision to life in their own ways. As the head of puppetry, I am responsible for taking the lead designer's ideas and communicating them in soft forms, and she provides feedback. I make my own changes — we are constantly changing and tweaking. It is a really fun and rewarding collaborative process between all the different departments. I will make a puppet, but of course the puppet has to have clothes. So then I am working with wardrobe. Then I am talking to actors, and they are telling me "I don't like how this feels, try this." It's all about collaborating and knowing how to talk to people. I will say at NSCAD, the critiques can get quite vicious, and that experience has helped out quite a bit in an environment like this. You might have a really great idea, but if it doesn't work for the designer, or the actors, you have to have thick skin and accept it. But yeah it's really fun to be on this team."
What advice can you give to current students?
"Know what you want to get out of the school — find the professors who are open-minded,  are understanding of the skills needed to get into an industry, and are willing to individually support you. Ask a lot of questions. There is a world out there for all kinds of art, practical and conceptual. We have a recovering film industry right now; there are so many opportunities for carpenters, sculptors, prop building, costume makers, etc. There are so many opportunities for NSCAD students. You just have to be willing to ask questions and reach out to the people who have answers. Reach out to organizations. There are so many opportunities out there that most NSCAD students probably don't know about. Find apprenticeships. Don't just expect the school to do it all for you. You can have a really impressive portfolio, you can be a straight A student, but those things aren't as important as knowing what you can bring to the table. In this industry, it's all about your attitude, your personality, and your willingness to learn. Having skills can get you in the door, but these things will take you far."
What's next?
"Right now, I'm trying to make time to have more of a personal art practice. Throughout the pandemic, I was working in the film industry full-time, which sometimes meant 60 – 70 hours a week. It is an intense industry. I have found myself really missing having my own art practice. Now, being back in theatre — it's still intense, but there is much more opportunity to balance personal creativity with other work. I am finding myself rediscovering my own art, which has been really rewarding."
You can see Cassie's work in full action at Neptune Theatre's production of Elf the Musical, on now through January 15! Limited tickets are still available at https://www.neptunetheatre.com/.