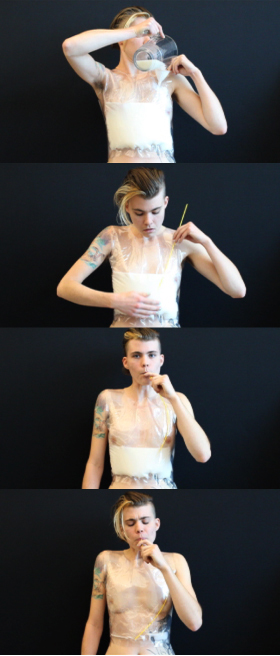 NSCAD student Beck Gilmer-Osborne is the winner of the 2014 Starfish Student Art Awards.
Representing the intermedia category, Beck's piece TUCK is a video documentation of a performance. In the video, Beck can be seen wearing a tight, transparent plastic chest binder, which contains a pocket that is filled with milk and makes the binder even more restricting. The artist then drinks all the milk using a straw.  The video remarks on the artist's identity as a non-binary trans* who is subverting concepts of gender transition narratives.
Members of the jury were intrigued by the video performance which they called provocative, compelling and "truly contemporary."
"It very smartly opens new conversations about evolving gender issues," says Peter Dykhuis, Director of Dalhousie Art Gallery, who served on the Starfish jury along with Eleanor King, director of NSCAD's Anna Leonowens Gallery, Jamie McLellan, Coordinator of Public Art for HRM, and Linda Hutchison, Director of University Relations. The jury also noted that the performance was serious, with flashes of humour.
Beck Gilmer-Osborne, an Intermedia major from Bobcaygeon, Ontario, is accustomed to confusing people in public washrooms. The valedictorian at this year's graduation ceremony on May 17, Beck is self-described as "incredibly awkward, queer, and punctual."
Beck receives the $5,000 purchase price for the artwork, which now becomes of NSCAD University's permanent collection. Each of the finalists—Jin Li, Conor Fagan, Josianne Desrochers, Kristy Depper, Semina Baek, Lee Roth, Jack Wong, Hesameddin Hanafialamdari, Elyse Moir and Merle Harley—will receive a $1,000 cash prize.
This is the fifth year for the Starfish Student Art Awards, named for presenting sponsor, Starfish Properties and supported by a record number of corporate sponsors and patrons. NSCAD University is grateful for the support of property developer Louis Reznick, who initiated the awards to celebrate top talent across 10 visual arts disciplines at the university.