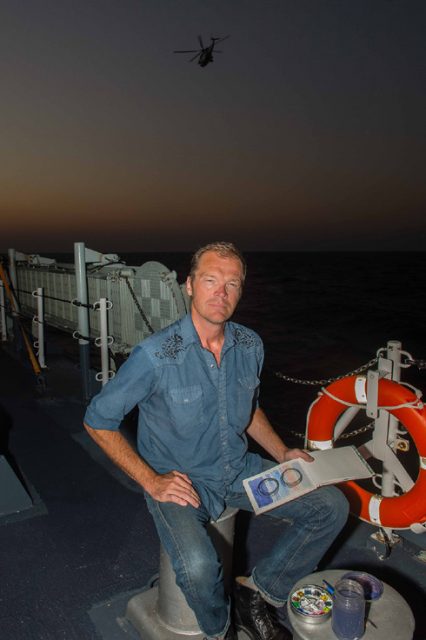 Deployed aboard HMCS Charlottetown in the Mediterranean Sea, artist Ivan Murphy experienced the repetitive nature of life at sea. Same blue sky. Same blue ocean. Repeat.
"The crew frequently said it felt like Groundhog Day," says Ivan (BDes 1991), who spent two weeks at sea as part of a residency with the Canadian Forces Artists Program. "Frequently, the change would be in what we had for supper. Pizza meant it was Saturday."
Nevertheless, there was a lot to figure out in the sameness of days, such as how to stay out of the way of the 250 crew members as they engaged in manoeuvres with other NATO ships including those from Italy, Denmark and Greece. Or how to capture the blue of the Mediterranean, a hue he had never experienced before. Colour gradually became a nucleus of the residency; "Ship Side Grey" , for example, is an iconic colour instantly recognized by sailors, who live in a somewhat surreal world illuminated only by red in the evenings.
Despite the spartan surroundings, working aboard the ship felt luxurious, allowing Ivan the opportunity to concentrate on his art and work through ideas without disruptions. He filled sketchbooks with drawings and watercolour studies in an effort to reveal the environment as experienced by naval personnel at sea.
Now back in his studio, he's reflecting on the unique experience and pondering how to translate it for the canvas. As one of a few invited artists, he is getting ready for a prestigious show in a year's time at the Canadian War Museum. Unsurprisingly, colour and repetition have emerged as major themes so far.
"The experience is significant and unusual. It's an important part of the history of art in Canada, so you feel part of a heritage," said Ivan, who works as a deckhand on pilot boats in Halifax Harbour when he's not in his studio or teaching classes for NSCAD's School of Extended Studies.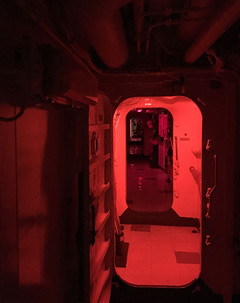 NSCAD artists have figured prominently in this heritage, going back to Arthur Lismer while he was the principal of the Victoria School of Art and Design (now NSCAD University) from 1916 to 1919. Lismer, in fact, was Canada's first war artist based on Canadian soil, representing the home front through his depictions of the comings and goings in and out of Halifax Harbour during the First World War. He is noted in particular for his large canvases of ships painted using the dazzle technique, which was regarded as a form of camouflage from enemy submarines and other warships.
From the beginning of the war, his interest in shipping and military activity was regarded suspiciously, and so in 1918 with the help of Lord Beaverbrook, he was commissioned as an official war artist. However, according to Donald Soucy and Harold Pearse in The First Hundred Years: A History of the Nova Scotia College of Art and Design, even official sanction didn't end scepticism of the prominent artist's activities. According to the authors:  "Lismer liked to tell stories of how he was harassed and 'thrown in the dungeon' of the Citadel while sketching on the docks, even after his commission."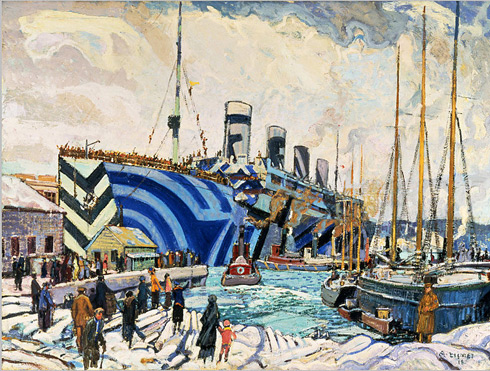 Other NSCAD alumni who have worked with the Canadian Forces Artists Program include Catherine Jones (BFA 1979), who was in Afghanistan in December 2009, a particularly devastating time for Canadian soldiers, and photographer Scott Conarroe (MFA 2005), who parlayed his experience into a series of photographs, By Sea, which looks at the coastline perimeter of Canada and the United States. The photographs are included in a book, By Rail and Sea, which includes text by NSCAD Professor Robert Bean.