Meet one of our most inspiring instructors: Caitlin McGuire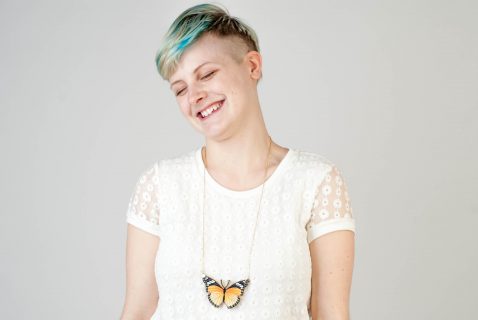 With Spring coming, now is the perfect time to cultivate a new creative skill! Have you ever been curious about expanding your artistic knowledge? NSCAD Extended Studies offer unique art classes for all ages for people just starting out or practicing professionals; all you need to engage in a class with us is enthusiasm! Our Spring term is live to view, and it is particularly stellar this year! With lots of new, exciting classes on offer and our classic, established art courses, there is something for every artistic interest! With that in mind, we'd like to share the spotlight on one of most Inspiring Instructors: Caitlin McGuire. She's a creative pillar of the community: as a past studio resident of the MacPhee Centre for Creative Learning in Dartmouth, as a visual publisher in Understorey Magazine based in Lunenburg; you've probably seen her lending her brilliant, creative energy to the dynamic Argyle Fine Art Gallery (1559 Barrington Street), which puts on inventive exhibitions and engaging endeavours to the city. In working with us, Caitlin has taught youth, teen, and adult classes in illustration, art in relation to outer space, gardening, camping & the outdoors, and more. Her most successful instruction has been as the teacher for Introductory Oil Painting, and her hugely successful Around the Colour Wheel class. A seven-week evening course, Around the Colour Wheel is designed to improve your colour palette and encourages your to explore colour relations, while working in the painting medium of your choice. In running this for the past 3 years, her students have come out the other side as stronger, more confident artists. Caitlin's wonderful style of teaching brings out the best in people: her humour, insights (and fantastic laugh!) put people at ease and encourages them to try new things.
With these glowing thoughts, we wish her all the best (and a tearful farewell) as she continues to the next step of her artistic career: as a Masters of Fine Art candidate in Painting and Drawing at Concordia University in Montreal. This coming Fall, she will be expanding her repertoire and reputation in her personal artistic career, and in becoming a stronger artistic leader in her community. We look forward to welcoming Caitlin back after her studies, but this is the last chance we have to work for her for a long time. It's your last chance to learn from one of the best visual artists in HRM by taking her unique and engaging classes. Around the Colour Wheel runs this Spring term on Monday evenings, 6:30-9:30pm April 10 to June 18th; Introductory Oil Painting runs Tuesday evenings, 6:30-9:30pm May 1 to June 19th. To register, https://extendedstudies.nscad.ca/home/  or email make@nscad.ca
Registration is available online or by calling our Finance Office at 902 494 8185. Forhttps://nscad.ca/study-at-nscad/ NSCAD Alumni and seniors (age 65+), we're happy to offer a 20% discount; just call our Finance Office for more information.
In addition to Caitlin's creative classes, we also have many other fantastic classes on offer for Spring: Screenprinting with Maria Doering, Typography for all Types with Lorraine Albert, Victorian Illustration with Drew McSherry, and many more. Stay tuned for our next Inspiring Instructor blog post!
NSCAD Extended Studies