April 1 – 8, 2019Art Bar +Projects, 1873 Granville Street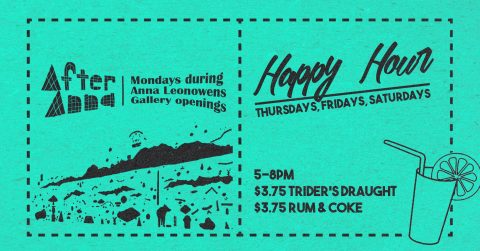 AFTER ANNA
Mondays during openings, 5:00 – 8:30 pm
We're here during every single Anna opening!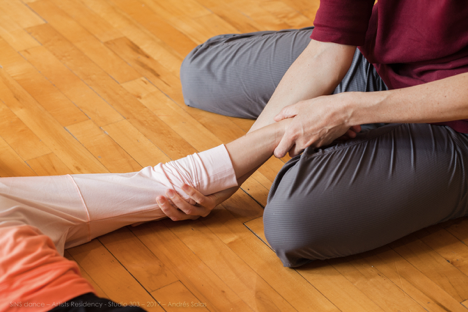 Bodywork Performance w/ Jacinte Armstrong
Wednesday, April 3, 3 – 6:00pm
"I have developed a hands-on bodywork practice that I call "cranio-fakeral". I swear it "works". Audience members are invited to participate in this 1-on-1 performance by receiving touch-based artful bodywork on Wed. Apr. 3 between 3-6pm at Art Bar. Performances are drop in or by appointment. All levels welcome.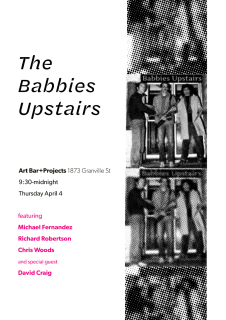 The Babbies Upstairs at Art Bar
Thursday, April 4, 9:30pm 
The Babbies Upstairs was formed in 1983 by four visual artists as a means of extending their creative interest through music and sound. Please join them for a performance this Thursday at 9:30pm at Art Bar +Projects.

Auction to support Stop Alton Gas 
Saturday April 6, 6:00pm
To help with fundraising legal funds for Stop Alton Gas and water protectors, The Shubenacadie River Beading Project is going to be auctioned off one piece at a time. The water protectors are in need of $30,000 and we need your help! Every dollar raised will go to the water protectors' legal fund.
https://www.32auctions.com/shubenacadieriverbeading
https://stopaltongas.wordpress.com/