July 4 – 10, 2019Art Bar +Projects, 1873 Granville Street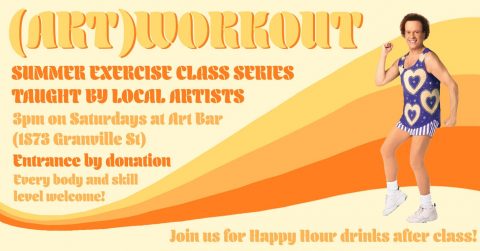 (art)WORKOUT at Art Bar!
Saturday July 20 at 3pm
Join us and the Centre for Art Tapes on Saturdays at 3pm for exercise classes taught by local artists! This will be a 4 week series, with new instructors and different classes each week. Classes will be 45 minutes to 1 hour. Every body and skill level is welcome! Join ys for Happy Hour drinks after class!
JULY 20: Art Barre Class with Tori Fleming
JULY 27: Pilates with Jacinte Armstrong
AUGUST 3: Bootcamp with Jessica Weibe
AUGUST 10: Circuit Class with Jason Skinner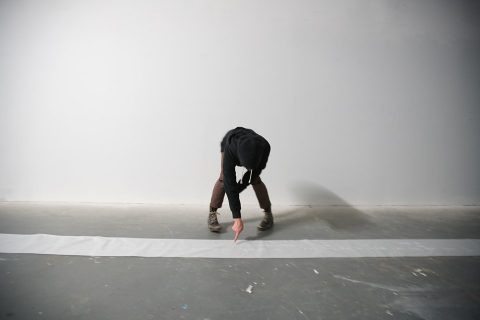 Artist Talk and Presentation with K.J. Holmes (NYC)
Thursday,  July 25, 7-9 pm
Dance artist, actor, singer, teacher K.J. Holmes' performance work is an intersection, collision and embodiment of experience and resistance through various improvisational lenses.
K.J. Holmes is a Brooklyn, NY based dance artist/actor/singer/teacher. K.J. teaches in NYC at the Juilliard School, NYU/Experimental Theatre Wing, and through Movement Research; has collaborated extensively with Simone Forti, Steve Paxton, Lisa Nelson and Image Lab, and poet Julie Carr; has performed in the work of Miguel Gutierrez and the Powerful People, Xavier Le Roy and others; is a graduate of The School for Body-Mind Centering®, William Esper studio (Meisner acting), and Satya Yoga. K.J. is currently studying to become an Ayurvedic nutritional consultant.
K.J. is also teaching a 3-day Intensive (July 22-24) and a Masterclass (July 26) in Halifax! Please be in touch for Registration and Information.
Contact: Sally Morgan eastwardmoving@gmail.com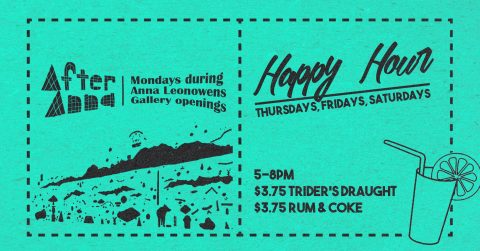 AFTER ANNA
Mondays during openings, 5:00 – 8:30 pm
We're here during every single Anna opening!