September 5-11, 2019Art Bar +Projects, 1873 Granville Street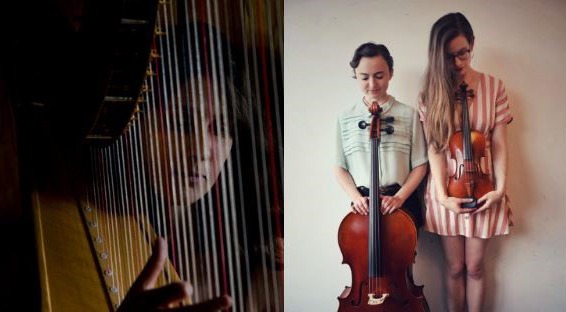 Ellen Gibling / The Swallowtails
Thursday, September 5
Doors open 7:30 / Show at 8
$10/PWYC
After completing a masters degree in traditional Irish performance, the wonderful and accomplished Ellen Gibling is returning to Halifax! She will perform some of her fresh harp tunes! It is sure to be a beauty of a set.
http://www.ellengibling.ca
The Swallowtails make sounds that fall somewhere between classical, folk, and Celtic. Based in Halifax, NS, they perform folk-inspired tunes and original arrangements of traditional fiddle music with energy and joy. Anna Wedlock, fiddle; India Yeshe Gailey, cello.
https://indiayeshe.com
Orientation Week Dinner Social
Friday, September 6, 7pm – 11pm
Join SUNSCAD for dinner, music, and communal face painting! Open to and free for ALL NSCAD Students ($5 entry for non-NSCAD students). This will be a dry all ages event.
SATURDAY EVENTS HAVE BEEN POSTPONED!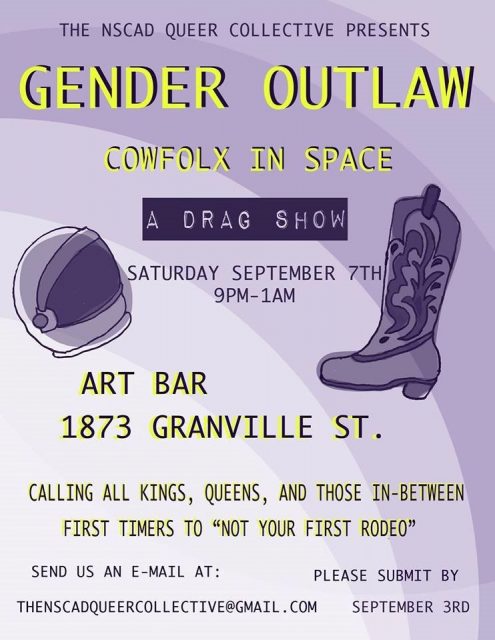 The NSCAD Queer Collective presents…
GENDER OUTLAW
** Cowfolx in Space**
A Drag Show
Calling all Kings, Queens, and those in-between
First time callers to "not your first rodeo"
POSTPONED DUE TO HURRICANE
NEW TIME: Saturday, September 14, 9pm – 1am
We are still looking for performers!!
Please send us an email with your stage name, pronouns, and song by September 3rd!
To: thenscadqueercollective@gmail.com
This will be the NSCAD Queer Collective's orientation party!! It is all ages, and we are looking forward 2 meeting you!!!!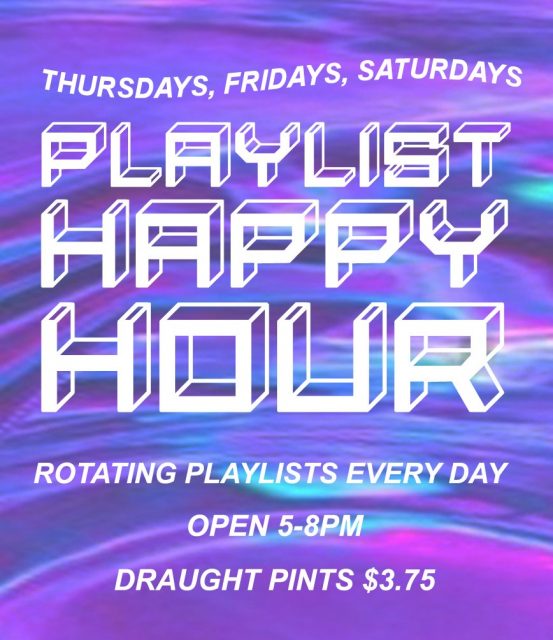 Join us every Thursday, Friday and Saturday from 5pm – 8pm for Playlist Happy Hour! We make the playlist, or you do – if you'd like to hear your playlist for this event, make one ahead of time and we'll play it from your device!
*NOTE: Playlist Happy Hour will be ending at 7pm on Friday, September 6th for a dry event!ACCESS NOTES:
Art Bar is ground level and accessible by wheelchair. There is no button to press on the entrance door for it to open automatically, however staff are available during open event hours to assist. Gender neutral toilets are available in the venue.
We reserve the right to ask anyone to leave the space, for discrimination or violent acts. Care for yourself and others.