September 12-18, 2019Art Bar +Projects, 1873 Granville Street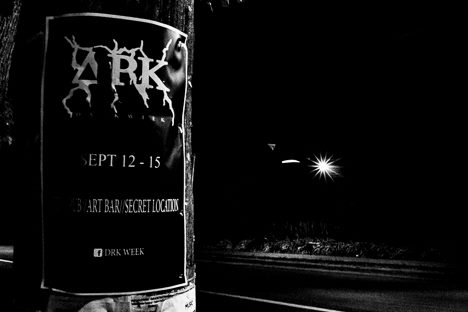 DRK Week
Friday, September 13 at 5pm – Midnight
A night of movies and amazing music!
We'll be playing The Crow, What We Do in the Shadows and The Lost Boys, followed by music from:
Mike Fong https://mikefong.bandcamp.com/ (New Love Underground, the WAYO, Loveland) explores the dark undercurrents of 80s synthpop and new wave, infusing his sound with elements of R&B and hip-hop. Fong uses a palette of hardware synthesizers, effects pedals, and drum machines to produce a playful, melodically-potent, yet intimate set. Listen to his site-specific work at www.instagram.com/themikefong
Followed by a DJ set by Craig Leonard
Demonic dancing by Catherine Murray and Taylor Zupiter facebook.com/taylorzupiter/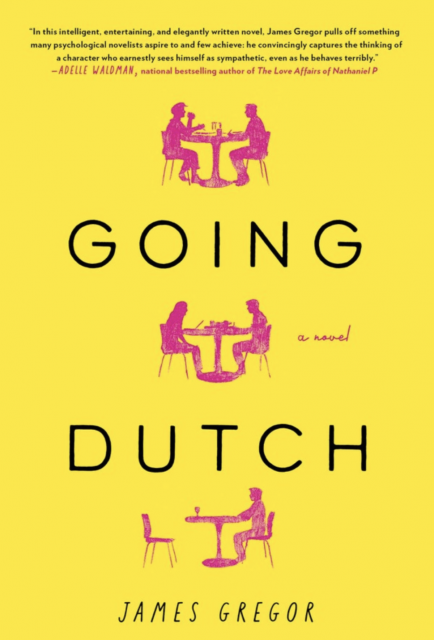 Going Dutch Book Launch Presented by Simon & Schuster
Saturday, September 14 at 6-9pm
The evening is to celebrate the launch of James Gregor's debut novel Going Dutch.
The book, Going Dutch, is the debut novel by Haligonian James Gregor. Set in New York and Montreal, Going Dutch follows Richard, a floundering graduate student whose sexuality is thrown into question when his swiping on Grindr gives way to a romance with a woman. It's a delightfully subversive love triangle story for millennials, and is one of very few novels that tackles male bisexuality. Early reviews have been raves, and you can read more about it here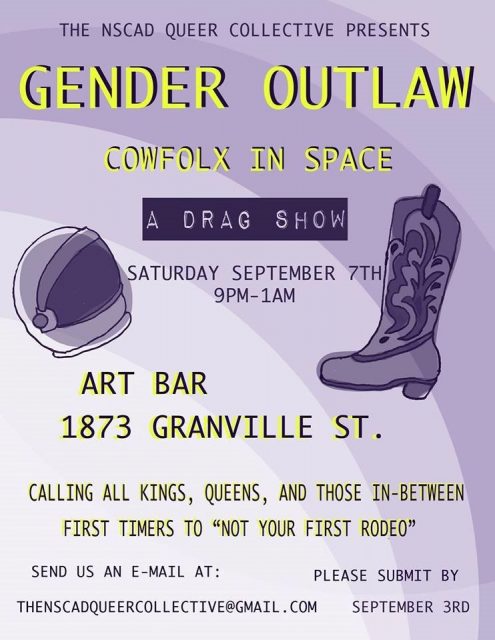 The NSCAD Queer Collective presents…
GENDER OUTLAW
** Cowfolx in Space**
A Drag Show
Calling all Kings, Queens, and those in-between
First time callers to "not your first rodeo"
RESCHEDULED DUE TO STORM LAST WEEKEND
NEW TIME: Saturday, September 14, 9:30pm- 1am
This will be the NSCAD Queer Collective's orientation party!! It is all ages, and we are looking forward 2 meeting you!!!!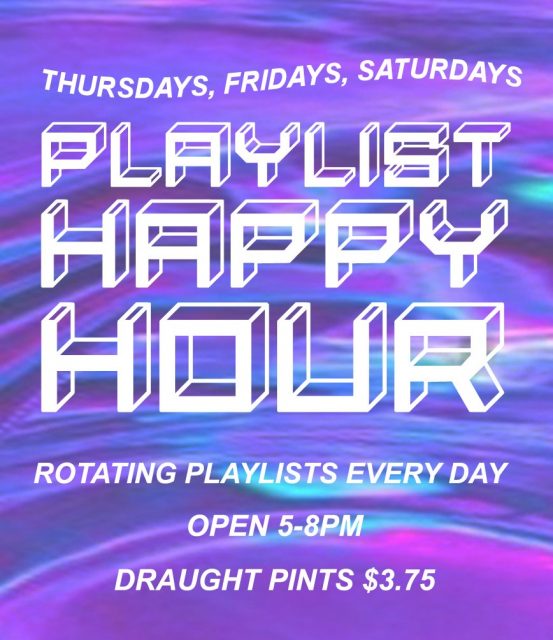 Join us every Thursday, Friday and Saturday from 5pm – 8pm for Playlist Happy Hour! We make the playlist, or you do – if you'd like to hear your playlist for this event, make one ahead of time and we'll play it from your device!
*NOTE: Playlist Happy Hour will be ending at 7pm on Friday, September 6th for a dry event!ACCESS NOTES:
Art Bar is ground level and accessible by wheelchair. There is no button to press on the entrance door for it to open automatically, however staff are available during open event hours to assist. Gender neutral toilets are available in the venue.
We reserve the right to ask anyone to leave the space, for discrimination or violent acts. Care for yourself and others.