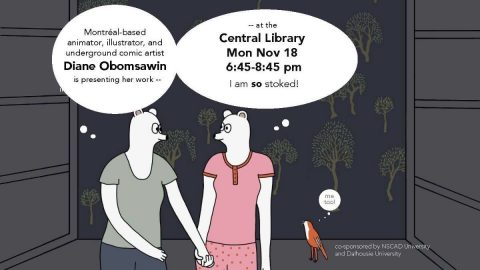 DIANE OBOMSAWIN
Monday, November 18, 6:45-8:45 p.m.
BMO Room
Halifax Central Library
5440 Spring Garden Rd, Halifax, NS
Diane Obomsawin began animating films in the early 90s, publishing under the pseudonym, Obom. Her latest short, I Like Girls (J'aime les filles) NFB, 2016, is based on Obomsawin's 2014 graphic novel On Loving Women. Obomsawin has been a mainstay of Quebec's underground comic book community since the 1980s and her award-winning animated shorts have been screened at festivals worldwide.
Dalhousie University co-sponsor/co-presenter.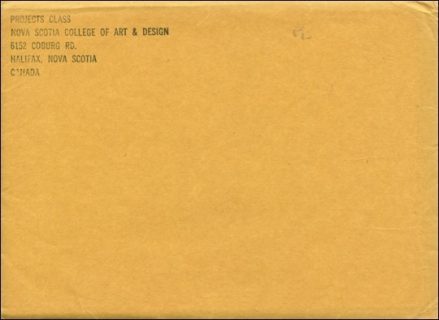 DAVID PLATZKER
Thursday, November 21, 7:30 p.m.
Art Bar +Projects
Fountain Campus, 1873 Granville St, Halifax, NS
David Platzker has served as Curator in the Department of Drawings and Prints at MoMA (2013-18) and Executive Director of Printed Matter (1998-2004). In 2018, Platzker restarted Specific Object, an innovative gallery, bookshop, and storehouse for a range of items, from artists' publications, multiples, and unique works of art, to literature, music, and counterculture, which was active between 2004-13.
(Image: Envelope for instructions from David Askevold's "Projects Class" (c. 1969-1972). Courtesy of the Mezzanine Gallery Funds, NSCAD University Archives.)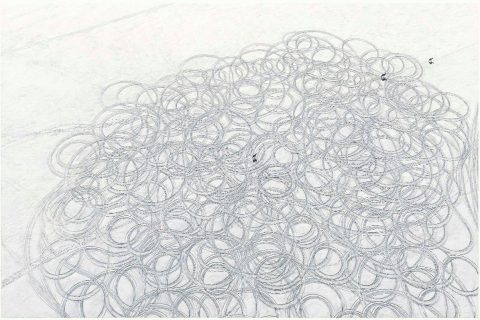 LAURA MILLARD
Friday, November 22, 12 p.m.
Art Bar +Projects
Fountain Campus, 1873 Granville St, Halifax, NS
Laura Millard is an artist, writer, educator, and an Associate Professor at OCAD University. Millard's practice combines drawing, photography and painting. Her work is informed by conceptual and minimal art and is inspired by contemporary representations of the landscape. From the imprints and other indexical traces left on the winter landscape, Millard explores gesture and drawing through unexpected approaches to mark making. Recent residencies include Arctic Circle Residency, Autumn Art and Science Expedition in Svalbard and the Norwegian High Arctic (Fall 2019). Millard holds a BFA from NSCAD University and an MFA from Concordia University.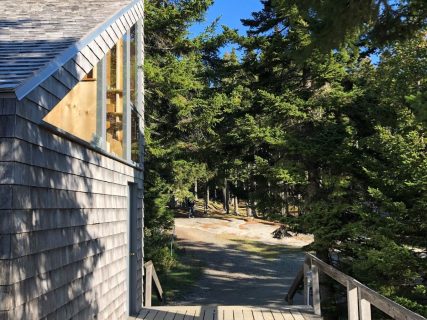 STUDENT PRESENTATION
Haystack 2019
Wednesday, November 27, 12 p.m.
Art Bar +Projects
Fountain Campus, 1873 Granville St, Halifax, NS
NSCAD Craft students will share their experiences of Art Schools Collaborative held at the world renowned Haystack Mountain School of Craft in Deer Isle, Maine. The annual symposium welcomed senior students and faculty from a dozen North American art and design universities to participate in hands-on workshops and dialogue with a diverse range of invited speakers in September 2019. This is a chance for craft students to learn about the annual opportunity and to meet the six NSCAD students that attended the recent 4-day conference.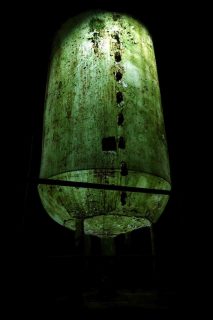 KIM MORGAN
RESEARCH-CREATION TALK
NSCAD Faculty
Friday, November 29, 12 p.m.
Art Bar +Projects
Fountain Campus, 1873 Granville St, Halifax, NS
NSCAD University Professor, Kim Morgan, will discuss her recent research project Anatomy of An Abattoir (in collaboration w Kaitlyn Bourden). The work was commissioned and created for Nuit Blanche 2019 and responds to the site of former slaughterhouse, Quality Meat Packing Ltd in Toronto.
RESEARCH-CREATION TALKS series is a research colloquium in which faculty present their most recent projects. RESEARCH-CREATION TALKS is an informal venue to disseminate knowledge, exchange ideas and incite creativity in a collegial environment.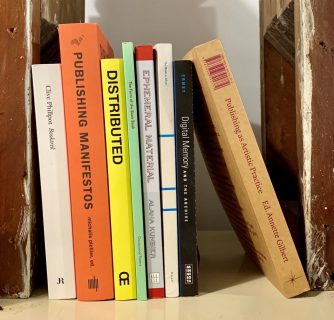 SAVE THE DATE
DEC 6: RESEARCH-CREATION TALK, Rebecca Young, 12 PM, Art Bar +Projects
(Image: Rebecca Young)