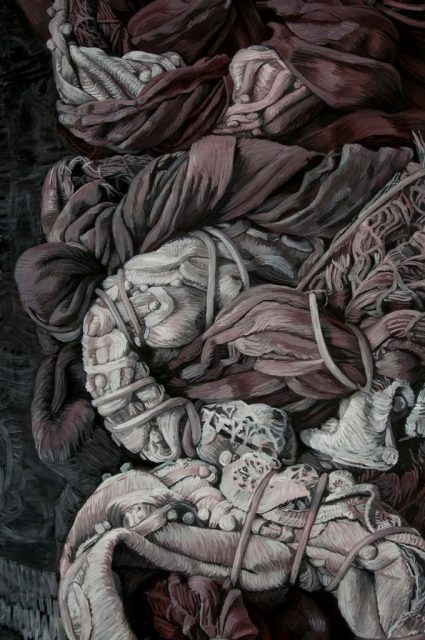 Bev Pike, visiting artist talkFriday, January 11, 1:00 PM
Art Bar +Projects, 1873 Granville Street

Winnipeg-based artist Bev Pike is known for her monumentally-scaled, performative landform paintings. Painted with gouache on paper, her works stretch from floor to ceiling, and are no less than eighteen feet in length, enveloping the viewer. Grottesque features her most recent series, which depict strange underground grottos and caves, lush with baroque detailing. Evocative titles like Cavernous Sun Parlour, Buried Dancing Pavilion, and Subterranean Day Spa suggest that these spaces comprise the leisure sites of a new underground civilization. Each of the works, produced between 2012 and 2018, invites the viewer to psychically inhabit it while imagining the circumstances that may necessitate a move underground. In neoclassical fashion, these science-fictional spaces reference architectural forms of the past, particularly English gardens, castles, and concert halls, but instead of soaring upwards, they also evoke the interior of the body.
Since graduating from the Alberta College of Art in Calgary, Bev Pike has exhibited in solo and group exhibitions across Canada, and has also become an accomplished writer. She has received senior arts grants from the Winnipeg Arts Council, Manitoba Arts Council, and Canada Council for the Arts. Her work is in the collections of the Canada Council Art Bank, the Museum of Contemporary Canadian Art, the Manitoba Arts Council Art Bank; as well as in artist's book collections at the Victoria and Albert Museum, Tate Modern, and special collections in England and North America.