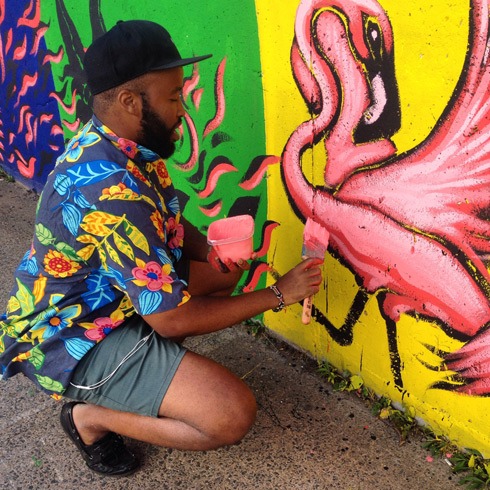 Alex Mbuga Thuku is a colourful guy. As the NSCAD student works on a new mural for downtown Halifax, his floral shirt is like camouflage against the wall, which has transformed from dull grey to all shades of bright: oranges, yellows, reds, greens and blues.
"Color makes me happy," he says, holding a brush dripping with pink paint. "It doesn't really have deep meaning, other than providing a blast of sunshine. Besides, it just feels so good to be outside and painting."
You've probably noticed his rainbow-infused works sprouting up in Halifax like wildflowers in sidewalk cracks. There's a massive mural in the alleyway on Blowers Street, just by Blue Apples Arts and Wellness Centre, an exotically coloured bull's eye on Queen Street and another outside Humani-T Cafe on South Park Street where he used to work as a barista. If you go inside, you'll his portraits of friends, all painted in eye-popping brights. The man is unstoppable.
His latest mural was commissioned by NSCAD University through a juried process. It was made possible with a "Gritty to Pretty" grant from the Downtown Halifax Business Commission.
"The NSCAD mural is a great example of how a modest amount of money can go a long way to beautifying an area," said Paul MacKinnon, Executive Director of Downtown Halifax Business Commission. "It's exciting to see Gritty to Pretty projects popping up around downtown; in addition to the NSCAD mural, you can see Inspirational Rain's secret sidewalk messages, The Robot mural on Granville Street, and The Pearl sculpture on Barrington Street."
The NSCAD mural takes up an entire wall on Market Street behind NSCAD's Academy Campus, just in front of the under-construction Nova Centre. The composition of animals—fantastical African birds and beasts and their North American cousins—is painted on a rainbow background.
A fourth-year student at NSCAD, Alex is originally from Kenya. He moved to Canada with his parents when he was 11 and the family settled in Antigonish. While at St. Francis Xavier University studying philosophy, he took an Intro to Painting class with Kate Brown Georgallas which made him think seriously about studying art full-time. He remembers the day he was accepted to NSCAD: "It felt so good. I was ready to move on."
Through DHBC's Gritty to Pretty program, the university also received support to light the facade at the Fountain Campus.