Please join us on Teams on Friday, December 3, at 12 p.m. for an artist talk by Professor Eddy Firmin, who will speak about his creative research practice.   Click here to join the meeting.  
About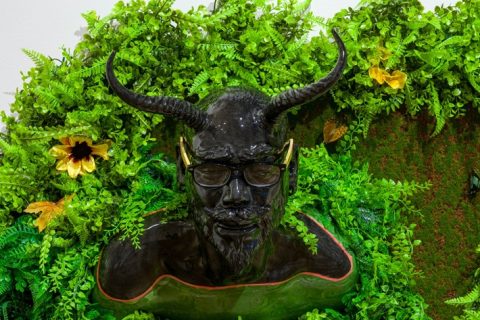 Born in the French Caribbean, Eddy Firmin is a decolonial artist-researcher. He coordinates the publication of the digital decolonial magazine Minorit'Art and has recently launched Af-flux, the first Black Transnational Biennale, in Québec.
Influenced by secular Afro-Caribbean practices created to resist colonial violence, Eddy's art and research delve into artistic expressions of transnational identity to bring forth "a vision of an alternate modernity, a culture of orality reinventing and adapting its codes and systems when faced with the fast pace of our current world."
Eddy Firmin earned a PhD in Arts Studies and Practices from the Université du Québec à Montréal, a master's degree from l'École Supérieure d'Art et Design Le Havre-Rouen (France) and a bachelor in art and design from the Campus Caraïbéen des Arts (Martinique). He upgraded his work of ceramics through two major residencies at Llorens Artigas foundation (Spain) and Shigaraki Institute of ceramics studies (Japan).