Dear students, colleagues and our NSCAD community,
We are very pleased to announce that registration for the Fall 2020 semester is now open and you can register and study from anywhere in the world. We are also very grateful for everyone's ongoing support and efforts to help get us to this important milestone while navigating the most unpredictable time in our history.
Providing the highest quality academic experience in a safe environment remains our focus in every aspect of planning for the fall semester, which features more than 140 highly engaging courses across all of NSCAD's divisions, as well as training and orientation on how to excel in the online classroom.
A full list of the online fall courses is available here. Descriptions of some of our inspiring courses are included below this message.

For the best selection of courses, we recommend you register before July 28.
Click here to register for an online course. Once you are signed in, follow these step-by-step instructions.
If you're not a NSCAD student yet, click here to send us an email about the courses for which you'd like to register.
How classes will be offered this fall
Instructors are hard at work, preparing academically rich and digitally exciting courses for you, ensuring that your learning journey is accessible, inclusive, flexible, and highly interactive. This summer we created a slate of classes designed for digital platforms that are currently in session. Thank you to those of you who have enrolled as the first cohort in these offerings.
As we shared with you last month, we will continue this approach for the fall semester to deliver dynamic online learning, using both synchronous and asynchronous (pre-recorded) learning experiences. Face-to-face instruction will happen only once it is absolutely safe for everyone's well-being to do so, and in accordance with provincial guidelines.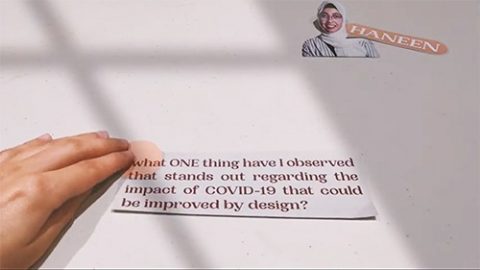 Flexibility is one of the major benefits of online learning, allowing students to complete much of the course work at a time that is most convenient and productive for them. And all online students have the same access to support as facility-based students including the NSCAD library, academic advising, writing centre, accessibility services and accommodation.
Planning for our return to campus
The Province of Nova Scotia approved a reopening framework for all universities using eight, progressive levels of control to protect everyone from COVID-19 as much as possible. The framework is the first step in a phased approach to ensure a safe work and learning environment that will gradually allow some on-campus activities to resume when permitted to do so by public health officials. We are currently developing our own site-specific plans that align with the framework, and you can expect to hear more about the plans and related amendments to NSCAD's Code of Conduct in the coming weeks.
Although the province recently eased restrictions with respect to social gatherings, these changes do not apply to workplaces or educational institutions. We are committed to ensuring you can continue to safely and successfully receive the transformative education you expect from NSCAD.
On behalf of the faculty and staff, we thank you again for your remarkable and ongoing demonstration of resilience, patience, and consideration for one another as we navigate the many ambiguities and complexities of the current situation. While it may be some time yet before we are able to physically be together again on campus, we are eager to join you online, welcome you back to your studies and support your growth and success.
Sincerely,
Ann-Barbara Graff (she/her)
Acting President
Vice-President (Academic & Research)
Select Fall 2020 semester course descriptions