NSCAD University Film Festival
NSCAD University and the NSCAD Alumni Association launch new film festival
Join us on April 4 and 5, 2022 as we showcase award-winning alumni films at the inaugural NSCAD University Film Festival presented by TD Insurance.
Screenings are at 7 p.m. ADT each evening at Cineplex Park Lane, Halifax (general admission). Not in the city? You can still watch the program from anywhere through FIN Stream.
Tickets:
Purchase single tickets:
Limited student tickets are available for $5 from the Advancement Office (4th Floor Fountain Campus)
Purchase two-day passes (includes a NSCAD lanyard and badge):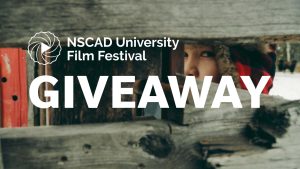 Films:
April 4, 7 p.m. ADT
Dog Girl — Heather Young (BFA 2009)
Alia — Raghed Charabaty (BFA 2016)
Carry the Cross — Jarrett Downey-Shaw (BFA 2014)
FEATURE
Murmur — Heather Young (BFA 2009)
April 5, 7 p.m. ADT
Surface Tension — Devon Pennick-Reilly (BFA 2020)
Father Like Son — Anna Kuelken (BFA 2021)
Arty — Nathan Boone (BFA 2016)
FEATURE
Cast No Shadow — Christian Sparkes (BFA 2004)
WEBINAR
The NSCAD University Film Festival program includes a webinar conversation "The impact of prosumer technologies on independent filmmaking" with feature film directors Heather Young and Christian Sparkes, moderated by NSCAD Media Arts faculty Sol Nagler. The webinar will be held on Wednesday, March 30, 2022, 1 p.m. Atlantic Time (noon Eastern, 9 a.m. Pacific and 5 p.m. GMT).
This event is free and open to the public. To register, email rsvp@nscad.ca.
Festival Organizing Committee:
Sunil Sarwal (BDes 2002), Sam Fisher, Marco Chiarot, Dean Leland
PRESENTING SPONSOR

OUR PARTNERS