On behalf of Dr. Aoife Mac Namara, President of NSCAD University, you are cordially invited to a panel discussion on a topic of contemporary relevance.
Designing for the future: How inclusive design impacts the now economy
This panel will explore the design challenges to making communities inclusive, and will consider business adaptations, technology infrastructure, physical infrastructure and design. The discussion will be of interest to academics, industry and government.
Featuring Dr. Jutta Treviranus, Founder of the Inclusive Design Research Centre at the Ontario College of Art and Design University. Dr. Treviranus is a thought leader in inclusive design. Her work recognizes the uniqueness of individuals and aspires to create processes for design in which everyone can participate.
Dr. Treviranus will be joined by Gerry Post, Executive Director, Accessibility Directorate, Nova Scotia Department of Justice; and Jim Mullan, Project Manager, Bird Construction.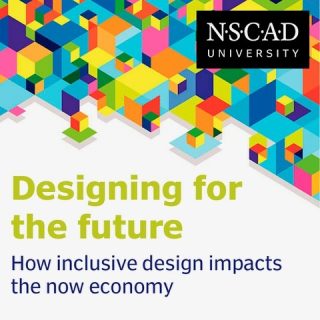 When: Tuesday, February 18, 2020, 4 p.m.
Where: NSCAD University
Port Campus, Room 207/208
1107 Marginal Rd, K'jipuktuk/Halifax
Please RSVP to confirm your interest at rsvp@nscad.ca
The panel is free and open to the public.
NSCAD's Port Campus is accessible. Paid parking available.