Amélie Proulx, who graduated on May 15 with a Master of Fine Arts in Craft, was named Grand prize winner of the inaugural $5000 Starfish Properties Student Art Award at a gala event held May 7 at the Port Campus.
Established by property developer and art collector Louis Reznick to recognize and promote exceptional young talent, the new award celebrates achievement in nine visual arts disciplines across the university.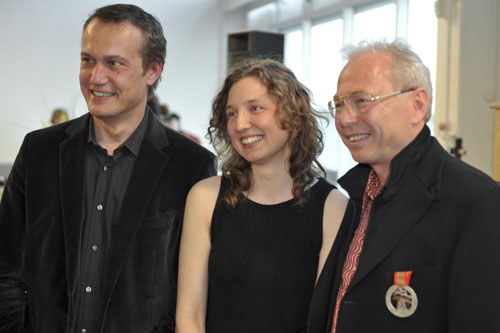 In addition to the Grand Prize winner, two semi-finalist prizes of $500 were awarded to Zoltan Ric (printmaking) and Jessica Hein (interdisciplinary). Both students graduatedthis year, with Zoltan receiving his Bachelor of Fine Arts, Major in Fine Arts and Jessica her Bachelor of Fine Arts (Interdisciplinary).
Amélie Proulx's winning piece, a mixed media work entitled Ebauche d'un nuage de pluie, will be added to a special section of the permanent President's Collection at NSCAD University known as "The Reznick Family Art Bank."
"The art world is built on recognition," says David B. Smith, NSCAD University president. "This premier award will provide our young artists with vital visibility as they embark on their careers, while benefitting them financially."
"I want to thank Mr. Reznick and Starfish Properties for their visionary support of this flagship initiative."
"I am proud to be supporting the Starfish Properties Student Art Awards," adds Mr. Reznick. "The efforts of NSCAD, and the creativity and ingenuity of these students, enrich the culture of our community. Moreover, their creativity is an extremely valuable contribution to our economy, shared by all."
The works of nine top student artists, each representing a separate visual arts discipline, were reviewed by a jury consisting of President Smith, AGNS Director and CEO Ray Cronin, Dalhousie Art Gallery Director/Curator Peter Dykhuis and Anna Leonowens Gallery Director Tonia DiRisio.
"I attend as many NSCAD exhibitions as I can, and some of the best work I've seen there in ages has been by Amélie Proulx," explains Ray Cronin. "Her ambition and technical virtuosity are remarkable, while her works are poetic and beautiful, rigorous and innovative."
"Amélie's work was a very deserving winner of the inaugural Starfish Prize," adds Cronin, "I look forward to following her career in the coming years."
In addition to Amélie, Zoltanand Jessica, the remaining finalists were each recognized with a $100 award:
Zimra Beiner (ceramics)
Chloé Gordon (textiles)
Amélie Jérôme  (painting)
sol Legault (photography)
Noah Logan (sculpture)
Amanda Memme (jewellery)
Amélie Proulx also won the People's Choice Award, sponsored by SUNSCAD, and voted on by Gala attendees.