To give an idea of how tight-knit the NSCAD community is, when Landon Mackenzie (BFA 1976) did an artist talk in association with her exhibition, Parallel Lines, at Dalhousie Art Gallery in January, her professors of 40 years ago—Ed Porter and Bob Rogers—were in the front row, cheering her on as always.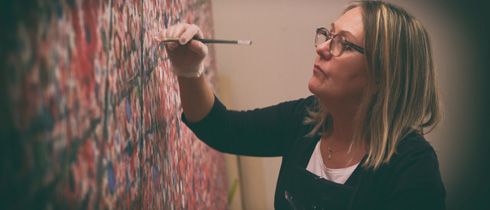 Now a winner of a 2017 Governor General's Award in Visual and Media Arts, she pays credit to them and to NSCAD for the formative years of her undergraduate education at NSCAD in the mid 1970s.
She was 17 years old, a "hippie chick" from Toronto when she arrived. Although the school was known then for its conceptual bent and "breaking all the rules," the printmaking department, where she spent much of her time, was "run like the marines … there was a rigor to it, an excitement." Adding to the buzz was the number of visiting artists who came through, artists who had a lot of time for the students they encountered and who added immeasurably to the NSCAD experience.
A professor at Emily Carr University of Art + Design, she has returned to NSCAD as a visiting artist herself on several occasions. She likes what she sees at NSCAD, still unique among art schools in Canada for the sense of community it fosters and the opportunities it offers students.
"At NSCAD, students have unparalleled space to rummage, explore, paint … there's a lot of individual attention from the professors, which is important. There's a new internationalism; students need to take advantage of the chance to go on exchange."
The mentorship she experienced at NSCAD has been important to her throughout her career as an artist and professor; the warmth, support and "permission to explore" that she received from her professors are what prompts her to pay it forward to succeeding generations of emerging artists.
For example, she has been involved since 2009 with the Joseph Plaskett Foundation as the coordinator for the award process. The Foundation distributes two awards annually: the $30,000 Joseph Plaskett Award and the inaugural Nancy Petry Prize, a $10,000 award. Last year, two NSCAD alumni were the recipients: Plaskett Award winner Ambera Wellmann (BFA 2011) and Nancy Petry winner M.E. Sparks (BFA 2013).
"Her work inspires our minds and her contributions to our community inspire our souls," writes Prof. Mackenzie's nominator, artist Jennifer Lefort.