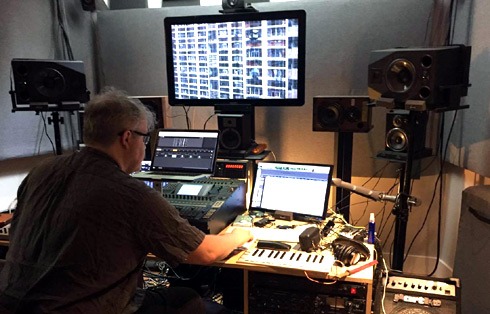 "Nobody puts on an opera by themselves."
This is how Lukas Pearse responds when asked about his many collaborations with other artists. He currently has at least 10 projects now on the go.
Pearse, a bassist, media artist, composer and sound editor, is one of the busiest artists in the city. He's also an educator, teaching at NSCAD University and the Centre for Art Tapes. He composes soundtracks for film, contributes to recordings, performs gigs with a variety of groups including his jazz band The Prohibition, organizes concerts, participates in international conferences, works on interactive audio and video projection design and holds the position of Artistic Director of Upstream Music Association, organizer of the Open Waters Festival of New and Improvised Music held in January in conjunction with Symphony Nova Scotia, Dalhousie's Fountain School of Music and other Halifax new music organizations.
On top of all that, he's raising two young children with a spouse just as busy as him.
"Scheduling can be difficult," admits Pearse. "I try not to let things overlap with each other, but it happens occasionally."
In demand
When you walk into his studio—a renovated garage—the spacious room is full. There are screens, instruments and cables everywhere. It's clear his work isn't focused on simply one thing. Pearse has numerous artistic interests, which is part of the reason why he finds himself so much in demand; he's good at a lot of things.
"That's like asking my what my favourite food is," he says. "We're not sustained by eating just one thing."
Also a visual artist, who provides improvised and composed live video projection for music, modern dance, fine art and theatre, Pearse basically grew up at NSCAD, where his father Harold Pearse was a professor of art education. He spent many after-school afternoons roaming the campus, and then attended as a student. He graduated with a BFA in 1994.
He explains his artistic interests evolve with the evolution of technology . For example, in the 1980s trying to use video equipment in performance was a frustrating process. Now  Pearse finds himself re-immersing into video projection design as well as audio due to the convergence of the technology.
Collaboration
Collaboration is something Pearse takes to heart and stresses the importance of to film students. "You can't be a self-sufficient filmmaker. It's just not how things are done. It's possible and you can try, but you'll make one or two films a lifetime."
Pearse says he has worked with numerous types of artists and that's just what it's like to be in the sound business.
"I try to make it clear to my students that when you're working with sound and film, it's really useful to understand when you're doing one role and when you're doing another role. Every time you work with people, they bring something to the table that you don't."
Post by Emily Marshall