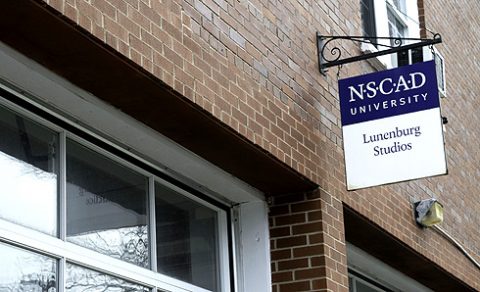 Since the founding the NSCAD-Lunenburg Community Studio Residency Program a decade ago, more than 25 recent NSCAD grads have moved to Lunenburg for a year to work on establishing their artistic practices and become involved with the community. Over that time, several of those alumni have continued living and working in Lunenburg—alumni including interdisciplinary artist Andrew Maize, twice shortlisted for the prestigious RBC Canadian Painting Competition, ceramicist Kara Highfield and illustrator Kat Frick Miller to name a few.
While in Lunenburg, the residents share a big, light-filled studio on the first floor of the former fire hall, and live in the three bedroom apartment on the second floor. As well as hosting art exhibitions and guest lectures, the residents often volunteer with art programs at local schools. Wrapping up the current year are residents Lux Habrich, Julie Wagner and Marley Johnson; preparing to arrive in September are Selina LaTour, Deniree Isabel Mendoza and Norma Jean MacLean.
For both NSCAD and Lunenburg, it's an ideal arrangement. For NSCAD, young artists fresh out of art school act as ambassadors for the university while developing their body of work; for the town, the program acts as an injection of youth and enthusiasm into a community which recognizes the value of art and culture to the local economy especially in light of the decline of the traditional fishing industry.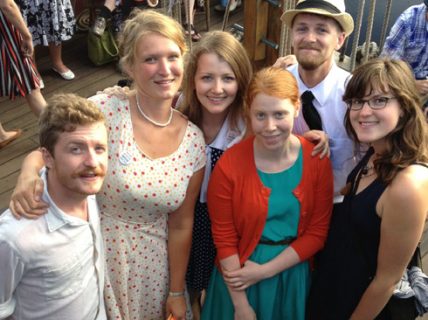 The program was created as a partnership between the town and the university upon the urging of Senator Wilfred Moore. He came up with the idea of the residency program for Lunenburg and was instrumental in setting up a meeting between then-NSCAD president Paul Greenhalgh and Lunenburg Mayor Laurence Mawhinney. He saw a connection with NSCAD as crucial, given the importance of arts and culture along Nova Scotia's scenic South Shore.
In an interview in 2012, Sen. Moore recalled his pitch to the President for the program: "I want you to open a facility in Lunenburg. You are the Nova Scotia College of Art and Design after all, not the Halifax College of Art and Design."
Since then, NSCAD residency programs have been set up with the Town of New Glasgow, the Centre for Craft and Design in Sydney, and the MacPhee for Creative Learning in Dartmouth.
In celebrating the 10th anniversary of the program, we asked alumni of the program to share thoughts about their time in Lunenburg and what it has meant to their development as artists. (You'll notice the word "grateful" comes up a lot.) As well, a 10th anniversary show will look back on the program's 10 years, featuring artwork from Senator Moore's personal collection. The Lunenburg Residency 10th Anniversary Exhibition runs September 6 to 8th at the NSCAD Lunenburg Community Studio Residency, 40 Duke Street, in Lunenburg, and Sept. 12 to 24 at the Anna Leonowens Gallery in Halifax.
Kristina Vermeulen (BFA 2007)
The key word for me for the Lunenburg Residency would be opportunity—an opportunity that I did not want to miss out on to continue my work and large-scale drawings in an extremely generous studio space in one of the most picturesque places in my home province.
My work was focused on the changing dynamics of my parent's farm and trying to capture that moment in time. I was able to develop this idea into large scale pastel portrait drawings of pigs. To this day I still reminisce about the fire hall bays with the large blank walls and natural lighting. When the weather was warm enough, I loved having the bay doors open. Passersby would be drawing in by the work being done in both spaces and come in to talk and share their stories.
The program was still so new, being only its second year. We were still discovering what the nature of the program was going to be within the community. I really enjoyed working with the local schools and hosting workshops with the kids. It was something that I valued at that age and was happy to share my time with them.
The time we were given to develop our work was invaluable. It helped me pinpoint where I wanted to take my focus outside of the educational setting and what kind of studio environment that would need. It also helped me decide to continue my education by taking a business administration course.
Since finishing the residency, I moved back to Halifax and became connected with the Nova Scotia Designer Crafts Council (NSDCC). It keeps me involved with the arts community and enables me to give back through volunteer work. I am grateful to have been a participant in the program and delighted that it still continuing.‬
Heather Rathbun (BFA 2008)
Originally from Nova Scotia, I received training from NSCAD University (BFA 2008) in Jewellery Design / Metalsmithing and Photography, exhibiting nationally and internationally. I have taught as a jewellery instructor for a number of art and craft institutions, and have represented both OCAD University and NSCAD University as a Jewellery Technician. I currently operate a studio out of Toronto, Ontario, as a self-employed goldsmith.
The first year after graduation is such a crucial time for any fine arts graduate. For me, the Lunenburg Residency was a launching pad. It acted as a creative incubator for what was a pivotal point in my early career. The live/work space provided by the program helped to lessen the burden of managing everyday expenses, which in turn provided more opportunity for me to focus on investing in my creativity. During the one-year residency, I focused my time in the studio on building my portfolio.
Having the opportunity to teach through the program was a great way to develop teaching skills, and was an area within my practice that I continued to pursue beyond the Lunenburg Residency. Teaching also helped to connect us to the local community, giving us the added benefit of exposure, and a network of people who supported us and the residency program.
Most of all, the residency was a great lesson in team building. Sharing the residency with two other artists was a vital part of my experience. We acted as a support system for each other and we worked together, sharing all of the responsibilities the residency program required of us. Looking back, I would say my relationships with the two people I shared the residency with was the most memorable part of the experience.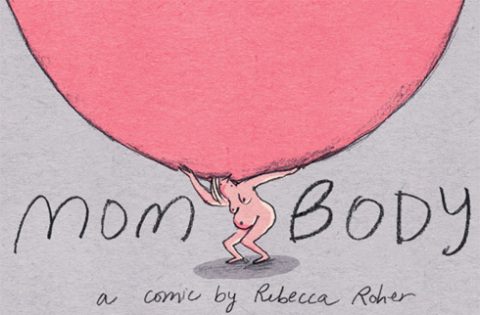 Rebecca Roher (BFA 2011)
I was accepted to be a resident artist at the NSCAD-Lunenburg Community Studio Residency after graduating from NSCAD with a BFA in painting and drawing. I received a Nova Scotia Culture and Heritage Creation Grant and a scholarship from Nova Scotia Talent Trust to support me through the year to create work. That year was hugely formative for me; I was given a generous studio space and the time to continue the momentum from my final undergrad studio year.
I have always been passionate about visual storytelling, and I explored narratives about women and water through quilts and watercolours in my studio, and with the quilting group at the Lutheran Church Hall. The town was so supportive, especially the friends of the residency, who checked in on us and had us for dinner to make sure we ate. I got involved in the Women's Centre and loved seeing familiar faces at the farmers market every week. I stayed in the area for three years after the Residency, creating and showing work, as well as offering community art programs.
My goal was to illustrate books and I wanted to learn more about publishing, so I moved away from the Lunenburg area to pursue an MFA in Vermont at the Center for Cartoon Studies. During my second year in the program, I illustrated a middle grade novel for MacMillan's Roaring Brook Press. Part of my thesis work, my comic Mom Body, was published by GUTS Magazine, theNib.com and Mitch Media and was shared by the Huffington Post, BuzzFeed and Yahoo Parenting, reaching hundreds of thousands of viewers.
After graduating from my MFA, I was offered a publishing deal by Conundrum Press. I wrote Bird in a Cage, a graphic novel about my grandmother who suffered from a brain injury leading to early onset dementia and her search for home. The book was recently released at Toronto Comics Arts Festival and has been reviewed on the CBC, The Globe and Mail, Rumpus.org and on the Comics Alternative Podcast.
I am so grateful to the NSCAD-Lunenburg Residency for supporting me from the beginning; helping me lay the groundwork for my career, giving me the chance to follow my passions and the room to grow greater than I could have imagined.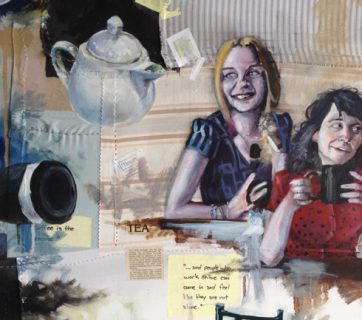 Jason Skinner (BFA 2011)
Twelve months in Lunenburg changed my life for the better. I credit this to the approach I took with the project I proposed, but it could also just be the magic of the town. I created five large paintings inspired by community hubs and executed using as many community elements as possible; local thrift store fabric scraps, farmer's market eggs, etc. I spoke with many people and involved myself in a variety of organizations to get ideas and input for my project. Consequently I made many friends and was able to make lasting contributions to the community. To this day when I return for events such as Paint Sea on Site for the Art Gallery, the Muffin Run or even just to be a tourist, I am met with familiar faces and welcoming places.
All this being said, the experience was not what I didn't make it. Winter is long and quiet and that is when I forced myself to execute the majority of the work on my paintings. I developed a strict work ethic and stuck to it, freeing up time in summer for all the goings on.
The two memories that stick out the most from my time in Lunenburg are: first, being giving the chance to conduct our final artist talk aboard a Tall Ship in the harbor; and second, working with youth in Bridgewater on a space-making project involving the artistic refurbishing of city benches.
Since my year in Lunenburg the town has become a strong centre for art and creativity in the province. I think this is thanks to allies and community leaders like Senator Wilfred Moore, and residency alumni like Andrew Maize, Kat Frick Miller, Hangama Amiri and Rebecca Roher to name a few. My hope is that NSCAD can continue to have a presence in Lunenburg and support the growing creative community therein for years to come.
Andrew Maize (BFA 2012)
I am so grateful for my experience at the NSCAD Community Studio Residency Program in Lunenburg. To have the time and space to continue making work while investing the community was such an important transition for me out of NSCAD. The community was super supportive of us and our efforts–and I found a home in Lunenburg. I have lived there for three and a half years now, (including residency time) and I am involved in developments such as the Lunenburg School of the Arts. Lunenburg was a great place to focus on making work and led to many productive projects.
I am currently in Vancouver doing two residencies –Malaspina Print Makers + Burrard Arts Foundation–in preparation for my exhibit at Back Gallery Project on July 7th. Then I'm off to Common Opulence, a residency with mentor Peter Von Teisenhausen for August.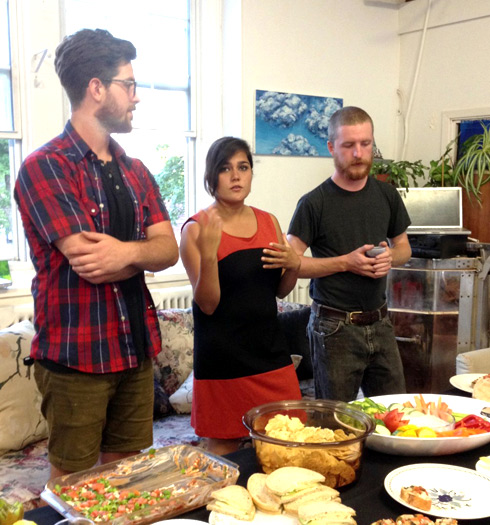 Hangama Amiri (BFA 2012)
As an Afghan-Canadian artist, I have finished my independent research as post-graduate fellow also as a Canadian Fulbrigther at Yale University, Council of East Asian Studies. Currently I'm in process of creating a body of painting series on my research project, entitled "Women, War, and Afghan Heroines" as well.
My experience as an emerging artist after graduating with my BFA from NSCAD University (2012) and being accepted for a year at NSCAD-Lunenburg Community Studio Residency in Lunenburg was exceptional. What makes this town special is the welcoming, friendly and art-loving community. Throughout the year in Lunenburg, I made a professional circle of friends, artists, and colleagues which I'm grateful to have. Although I have many good memories as both an artist and as a resident, what made my time especially rich was going on Thursdays to the Farmers Market. I miss waking up early morning to get my fresh organic vegetables, warm bread and greeting my friends.
Kara Highfield (BFA 2013)
I am still happily living in Lunenburg. During my time at the residency and since, I have cultivated a vibrant and supportive community in this town that allows me to feel confident in calling Lunenburg home. I am still making work and exhibiting. Living in Lunenburg allows me time, space, and support to create. I cannot say for sure but I cannot imagine being able to pursue my art practice to the extent that I have in a bigger city where studio and apartment rents are higher. The NSCAD residency allowed me to continue my exploration in ceramics after graduation; one of the most valuable aspects was that I had a safe space to figure out how to be an artist outside of the university context. It was a perfect way to transition out of school, a perfect taking off point.
The NSCAD residency has had a wonderfully positive impact on my life and the lives of many others, and now being a committed citizen of this town I see the immense value in having a constant influx of creative young people.
Teto El Siddique (BFA 2013)
My time in Lunenburg was an invaluable experience of reflection, assimilation and reconstitution. The residency allowed me time to absorb my studies at NSCAD as an undergraduate. Lunenburg provided a solitude in which my newly digested experiences could be made whole in the studio and in my interactions with the community. I wrote my application to grad school in the Lunenburg residency program and prepared the work and portfolio which got me accepted to graduate school. I will continue on in 2016 as the painting fellow at Virginia Commonwealth University after just having graduated with an MFA in painting/printmaking from the Yale School of Art.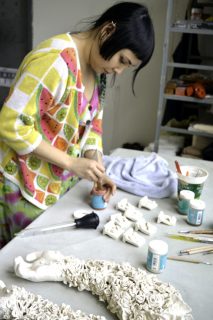 Lux Habrich (BFA 2015)
Aspiring to combine a career in art therapy with a professional artist practice, a residency program seemed like a great transition out of university life and offers me first-hand experience to work with communities. It also provides exceptional, 24-hour access to a large, bright studio space with a kiln and lots of storage. I feel like it is both a great opportunity to grow as a maker and a social justice activist. I enjoy sharing my love of craft culture and my peer support skills, to witness the benefits of community work empowering those around me. Lunenburg in particular attracted me due to its coastal landscape, which offers constant inspiration and its abundant celebration of craftwork. The size of the community allows for increased intimate relationships with its members.