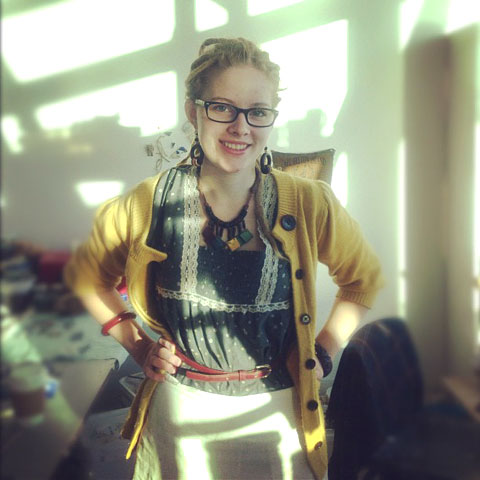 Sarah Cheetham didn't have a plan, a job or access to a studio beyond May graduation. But what she did have were ideas, tons of them, racing through her mind.
Then, after a chance visit to the Cape Breton Centre for Craft and Design on Charlotte Street in Sydney, everything started to come together.
Sarah is NSCAD's latest community studio resident; the Sydney program is a complement to other programs in New Glasgow, Lunenburg and at the Bridge Centre for Arts and Technology in Dartmouth.
"I found out about it really late, so I'm happy with the way it turned out," says Sarah, a potter who started her residency on October 1.
As artistic resident, Sarah will continue to develop ideas that seized hold of her during the last semester of her degree, a BFA majoring in ceramics.  She will be able to make use of the centre's superb facilities for ceramics, which include pottery wheels, a glaze kitchen and two kilns.
While at NSCAD, Sarah began integrating pottery shards in her functional work, beautiful bowls and cups. She was also inspired to recreate the shards into large wall hangings—"to make something that wasn't functional but that could open up a conversation," she says.
Originally from Margaree, the 22-year-old Cape Bretoner considers herself as archaeologist of sorts, combing through old bottle dumps and abandoned farm sites on the island, looking for evidence of previous lives. While with the Cape Breton Centre for Craft and Design, she's interested in connecting with the Fortress of Louisbourg to investigate their ceramic collection.
As well as continuing with her own work, Sarah is excited about the chance to teach. She is teaching a class for children on hand-building ceramics and an intermediate pottery class for adults. Sarah will also engage with community members, from seniors to students, by holding workshops and hosting artists' talks.
Lori Burke, Executive Director of the Centre, is pleased to have Sarah aboard and assisting with the Centre's community outreach. She feels it's important that community members are exposed to artists—"to see for themselves the skill, technique and passion that they have."
Lori is also interested in strengthening a partnership with NSCAD. "We'd like to see young people consider NSCAD as a post-secondary option—to go to NSCAD and come back to Cape Breton and become our artists and artisans. This is so important for the health and vitality of Cape Breton."
NSCAD's other community studio residents are: Teto El Siddique from Toronto, Ont., Kara Highfield from London, Ont. and Samantha Battaglia from Halifax, N.S. in Lunenburg; Mary (M.E.) Sparks from Kenora, Ont., Morgan Salter from Kingsburg, N.S. and Brianne Williams from Coldbrook, N.S. in New Glasgow; and Dylan Fish with the Bridge Centre for Arts and Technology in Dartmouth.
Applications for NSCAD's 2014-15 community studio residencies from students soon to complete their NSCAD degrees will be accepted at the beginning of the winter 2014 term.