There's nothing like getting the biggest news of your life and having to keep it to yourself for months on end.
That's what happened to NSCAD alumni Bill MacGillivray and Greg Payce, both of whom were recently awarded Governor General's Awards in Visual and Media Arts. They heard of their huge honours back in October and could only speak of it after the official announcement last month.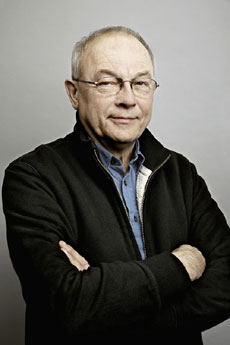 "I had a really nice message on my answering machine back then and I thought, 'OK whatever,'" says film pioneer Bill MacGillivray with a laugh, reached during the midst of celebrations mid-March in Ottawa. "But we just got taken into the House of Commons and there was some bowing and foolishness. Tomorrow we meet the Governor General and are presented with our medallions and we'll give a little speech. It's a lot to take in."
Greg Payce, an artist potter who teaches at the Alberta College of Art and Design, agrees being in the spotlight felt strange. "I feel like a regular artist person so to get all that attention and royal treatment is amazing. I think everybody was slightly freaked out."
It's been a long road from his days as a student at the art college in the 1960s to all the hoopla in Ottawa, but Bill MacGillivray has always taken his own independent path. Back when he first started making films in the 1970s, there was no local film scene—it had to be created. He served as the first president of AFCOOP.
"It was the beginning of independent film-making in the Atlantic region and we were teaching each other," he says. At the time, he was working as an art teacher in various Halifax area schools and working on his films on the weekends and in the summer. "In those days to get your hands on a camera and make a film was huge."
Bill's experience of NSCAD—"it was welcoming and unpretentious" —and what it would become under the presidency of Garry Neill Kennedy in the 1970s and 80s had a profound effect on his filmmaking. His critically acclaimed feature film, Life Classes (1987), was set at NSCAD, about a life drawing model who through listening and watching the other students teaches herself to become an artist. He also made a documentary about NSCAD on its 100th anniversary—I Will Not Make Any More Boring Art (1988). "It's a nice document of that time," he says. "How this little Victorian school became the best art school in the country. It was a time of turmoil—creatively and intellectually—and it was an amazing achievement."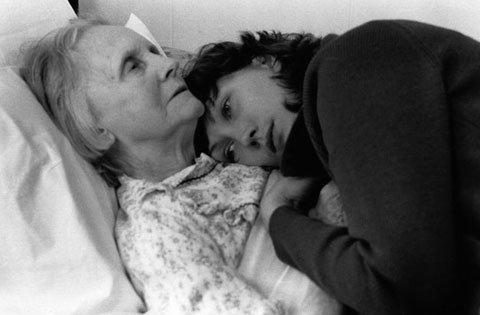 He believes fervently that NSCAD needs to remain independent to maintain its edge—an art school can't marry to a traditional liberal arts school because the way of teaching and learning is so fundamentally different, he says.
"I think on our old motto, Head Heart Hand, and it's so true. You're working with your hands—and there's that direct link from the mind to your hands. It is just so very very different from other ways of learning."
Along with producer/partner Terry Greenlaw, Bill, 67, is working on two projects: a low budget feature, Hard Drive, now in post-production, and a NFB documentary on former Newfoundland premier Danny Williams.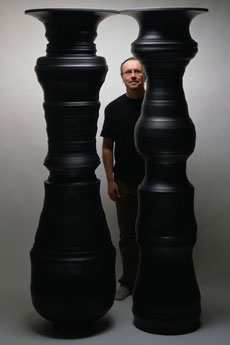 Greg Payce's vessels are significant for what they are—and are not. As an artist, the 2013 Saidye Bronfman Award winner is interested equally in the object and the negative space the surrounds it.
"I like to go into those negative spaces and animate ideas," says Greg, who has worked as an instructor in the ceramics program at the Alberta College of Art and Design for the past 24 years.
Take a look at his work: At first you see the vases. And then other things, like human figures in profile appearing in the spaces in between. How does he do that?
Greg attended NSCAD from 1985 to 1987 and completed his master's degree. Coming from the University of Alberta where he did his BA, he found NSCAD to be a "serious" place.
"I still reflect a lot on that time; it was a very productive time for me and just an awful lot of energy to connect with."
NSCAD made him think conceptually about his work, but also about the whole rich history of ceramics. "The very material we work with has this incredible pedigree. It makes working with it so exciting."
Based in Calgary, Greg has presented his work in over 150 solo and group exhibits around the world. Last year he exhibited at Toronto's Gardiner Museum and his large bronze commission, SSSSSSSSSSSSSSS, is notable at the Calgary International Airport. He was featured in Trans-Ceramics, the feature exhibition at the 3rd World Biennial of Ceramics in Icheon, Korea, and his major work, Wane, was recently installed at the new Canadian embassy in Seoul, Korea.