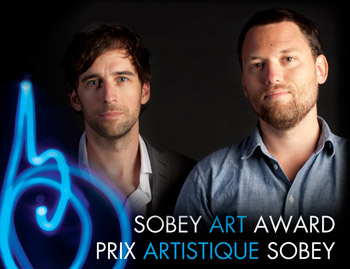 On the morning after the Sobey Art Award announcement, Christian Giroux (MFA 1995) was still struggling to put feelings into words.
"We're completely bowled over," says Christian, who shares the top prize with artistic collaborator Daniel Young. "In a way we're in a state of unbelieving in terms of being singled out from this extraordinary group of people we've gotten quite close to.
After meeting throughout the day on Thursday, the curatorial panel's announcement was made by 2010 Sobey winner Daniel Barrow during the gala at the Art Gallery of Nova Scotia in the evening. The other shortlisted artists for this year's award are: Charles Stankievech (West Coast and Yukon); Sarah Anne Johnson (Prairies and the North); Manon De Pauw (Québec); and Zeke Moores (BFA 2002) (Atlantic). The finalists each receive $5,000, and the winners take home $50,000.
Making the night even sweeter was that it took place in Halifax, just blocks away from NSCAD where Christian studied for his master's degree in the mid-1990s.
"It was a really lovely homecoming and wonderful to catch up with friends. It's just tremendous to be back on old stomping grounds."
In commenting on the Ontario duo's achievement, Sarah Fillmore, curator of the Sobey Art Award, said the curatorial panel was impressed by the collaborative nature of their practice and diverse body of work, which includes elements of film, sculpture, installation and architecture.
"Their approach is fresh—it's a mature and contemporary take on Modernism."
Christian, a professor at the University of Guelph's School of Fine Arts and Music, said they were feeling the impact of a Sobey Art Award nomination even before capping it off with a win.
"I believe the Sobey Art Award has a profound effect on Canadian contemporary art. It has fostered a national dialogue and injected drama into the scene. We're very thankful for what the foundation has done for the arts."
His words were echoed by Zeke Moores (BFA 2002), also basking in the Sobey glow a day later. "Getting on the shortlist was so great," he said, reached while standing in line at Steve-o-Reno's. "People are beating down my door already."
The Sobey Art Award was created by the Sobey Art Foundation in 2002 to honour the achievements of Canadian artists 40 years and younger and is organized and administered by the Art Gallery of Nova Scotia. Every other year, the Sobey Art Award exhibition travels to a gallery or museum outside of Halifax.
The 2011 exhibition is on view at the Art Gallery of Nova Scotia until January 8, 2012.